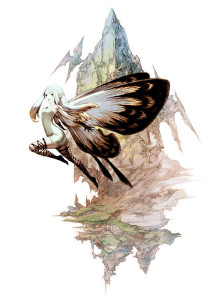 I have a mutant power when it comes to video games. I have the ability to avoid all spoilers of any game. It doesn't matter if I plan on playing it or not; I can somehow blank out all discussion of any potential spoilers. I played the original BioShock several years post release and was still surprised by the ending. Even though Blake for a year kept saying, "Would you kindly" during podcasts, I never picked up on it. It's a goddamn gift.
Thus, I've managed to avoid something that several people have complained about with Bravely Default over the last couple of years. This is one of those times that a gift can be a curse.
As I mentioned over the last couple of weeks, I've been trying to play Bravely Default instead of tablet or phone games. I've been pretty successful, but on Sunday, during naptime, I hit something I didn't expect: having to replay virtually the entire game. I've logged in over 35 hours of the game thus far in my party's attempt to reawaken all of the crystals (Square and their damn crystals), and after reawakening the last one, I've gone back in time and I have to reawaken them all over again. I snarked on Twitter over it, and a friend replied that I'd have to do it more than twice. I looked it up on GameFAQs, and sure enough, I have to awaken the crystals a grand total of four times.
You have GOT to be kidding me.
I can handle some padding in games, but this is ridiculous. I'm annoyed about waking them again. I have zero interest about doing it two more times after that. How little story is there to force this? If it is necessary for the story and plenty is revealed during these tedious and repetitive boss battles, then I have to wonder how awful the story is. I'm honestly debating quitting and reading an online wiki, because I am curious about the life of one character. But is that one character's tale worth repeating this plot device? Ugh, I have trouble caring.
This is lazy, even for Square Enix standards. Next thing I'll hear is that you can only see a "good" ending if you complete the game to 100% or something like that. Please don't tell me if that is the case. I don't need my world shattered any further.
Maybe I should just go back to Kingdom Hearts Dream Drop Distance or Final Fantasy X; Square Enix games that don't entirely Square Enix themselves.
I need help.