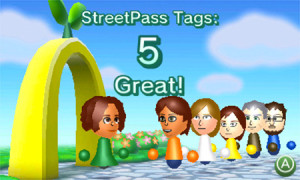 So after all of that talk last week about everything I was going to take with me to MomoCon over the weekend, including changing out the PS4 for the Surface so I could review something for work, only the 3DS got any attention. And that was strictly for StreetPass purposes only. I never once played Bravely Default. I didn't play anything else I brought for the 3DS. I didn't turn on the Vita once. And the only time I used my Surface was to quickly write an article about Keith David letting something slip about Halo 5: Guardians. I didn't even watch my friend play games, which is something we always do when I visit.
At the con, it was all about the StreetPass. I checked it so often for said StreetPasses, I nearly finished round two of Find Mii II (started fresh game at the con). I also only have three puzzles to complete. I should get it all done by E3, and of course, as is E3 tradition, Nintendo will add more puzzles for me to complete. And then that is what SDCC is for.
I really did mean to at least work a little, work meaning work on a review and not write a news story. However, when you're visiting a friend you haven't seen in a couple of years, sometimes these things just don't happen. We stayed up way too late talking and catching up, and we went to see Avengers 2: Age of Ultron on Saturday. Yes, I have to go out of town to see a movie. Whilst on the plane, I spent every minute in the air reading the last Witcher book I have. I finished it while my plane was getting taxied after landing. What can I say? It's a really good book series, even better than the games.
Oh and last night I didn't play any games either because I wanted to finish volume 1 of Dragon Age: The World of Thedas. I admit completely I have a problem. But now that I'm back in the real world, it's back to work and back to The Witcher 3!