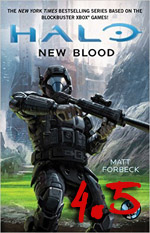 As Halo 5: Guardians looms closer, I realize I have plenty of Halo books to catch up on, and I don't mean just older books, of which I have three. Two Kindle books have released as well as one other "proper" print book since Halo: Broken Circle. The first e-book, Halo: New Blood by Matt Forbeck, was probably one of the fastest reads I've had in a long time. However, simply because it was a fast read does not mean that it was badly written or had a bad story. In fact, fans of a certain ODST named Buck will greatly enjoy New Blood.
Since Buck will also star in Halo 5: Guardians, I wouldn't be surprised if New Blood is "required" reading for the game. The story is told by Buck, from his first-person perspective, and it opens up a lot of perspective upon his role in Halo 3: ODST as well as his relationships with that team. Several questions were answered that I personally had, and for all those who want to know about the others from the team, such as the Rookie, Dutch, and Romeo, and what they have done since that game, all of that is detailed as well.
Buck tells his tale in a bit of a pulp fiction format, in that he starts off explaining why a certain mission went awry, but then he breaks off on tangents to delve even more into the backstory. The flow of it is handled flawlessly, and it comes across brilliantly as someone who is telling a rather long story. When was the last time you told a long story without breaking off into tangents to further explain something? If you're able to do so, you deserve a cookie. I, for one, am not.
The book is rather short, but that's not entirely what makes it a fast read. Buck's tale is bloody fascinating. Like most stories orally told, his is nonstop action with very little exposition and downtime. I only stopped reading because my eyelids grew heavy at night when the clock reached midnight. Because the story was such a page turner (or screen swiper, as it was in this case), it only took me about two days to get through. No part of Buck's tale could be described as boring, unless you're a stoneheart who doesn't enjoy tinges of romance. These don't happen very often in the Halo-verse, and I am rather pleased that Forbeck elaborated upon Buck and Dare's relationship that was only hinted upon in Halo 3: ODST.
I do have to add, even though you've probably already gathered this much, that no one should read this without playing Halo 3: ODST (or the wiki, you dirty, lazy cheater) beforehand. None of the characters are "introduced;" it is quite assumed that the reader is very familiar with all of the characters within.
If it wasn't an e-book, I'd say it's a great beach read, but it's hard to justify taking a Kindle or iPad or Surface to the beach where it could get ruined. It's a great vacation book; how is that? Oh, and yes, Halo: New Blood is a must-read for everyone who has played Halo 3: ODST, regardless if it truly becomes required reading for Halo 5: Guardians.