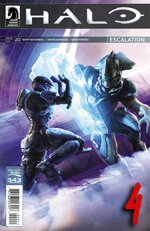 The Tomb Raider comic may be on hiatus to prepare for the November game, but Halo: Escalation is still going strong, even with an October game release. Issue #20 isn't the last issue before the game, and it's not even the last issue of this particular arc. Issue #20 is, however, quite the culmination of nearly every theme ever introduced into the Halo-verse. We have the following to look forward to:
hatred of Halsey
Halsey's obsession with technology and knowledge no matter the cost
Covenant hatred of humans
human hatred of Covenant
all Hell breaking loose
ONI double dealings
Forerunners as gods
betrayal
other spoilertastic things I won't mention
I'm not sure you could ask for more in a comic issue for Halo.
At the end of the last issue, everything that could go wrong has for the Spartans who have sneaked aboard Jul M'dama's fleet with a Sangheili spy has. Really, would it be a Halo story if everything went smoothly and according to plan? This time is once again a bit of Dr. Halsey's fault in her rush to find the coveted artifact the Librarian left her to uncover, and it's also a bit of Jul M'dama's fault for insisting everything happen right now. Unfortunately for Halsey, she enjoyed pointing out the latter to him way too much, and I honestly though he would be the one to finally kill her. He still may be, but he didn't this month.
Yet, this doesn't help our Spartan IVs at all or Ayit the Sangheili spy or even the UNSC back on the Infinity, since Halsey's mistake damaged their communicator back to the mothership. They're now having to wing it, Ayit and the Spartans are even more forced than they were before to trust one another with their lives, and Palmer has to be super nice to a scientist, something she loathes to do. The entire story has a great buildup to the very last page, which hints that we may finally get the answers to ________ and ________.
While the story is great, this issue is a bit off, art-wise. Ian Richardson and Netho Diaz have left off a lot of the details in faces and the environments that the series usually has. Even the inks seem to be lighter, as if this was a cel-painting from the 80s with severe line fading. It's bizarre, and definitely not what I'm used to with the Halo: Escalation comic series.
Halo: Escalation #20 is available now from Dark Horse via digital and retail.
Digital review copy received from publisher.