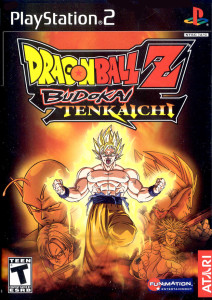 I watched A LOT of EVO 2015 this weekend. I streamed the Ultra Street Fighter IV and Super Smash Bros. Melee pools most of my work day on Friday and then watched Mortal Kombat X pools Saturday as well as the MKX semifinals that night. Right after church on Sunday, I got prepped for the MKX finals, and I was blown away watching someone from the losers bracket come back and win it all in the grand finals. Watching these guys master juggling opponents is a beautiful sight to behold, and I saw more Brutalities than I know I'll ever see in my own gameplay days.
Granted, these guys practice and train with their preferred characters about as many hours as I work during the day, so yes, they have worked hard to get where they are. Watching them, though, reminded me of how many hours I put in back in the day when I was hardcore into Dragonball Z Budokai Tenkaichi, the original one on the PS2.
Even if there were professional gaming tournaments for DBZBT back then, I wasn't good enough to get very far in any competition. However, I did put in the hours in that game to master two characters (Vegeta and Trunks) and learn all of their secret moves–a/k/a the ones that weren't in the instruction manual–and no one would play that game against me. I would even offer to play as a character I normally didn't fight with, but still no one would play against me. I don't know if this game supported online play, but the PS2 wasn't that great for online anything back then. Some games utilized it, but not many, and it wasn't great enough to warrant even bothering running CATV to the PS2.
I loved DBZBT so much that I purchased the sequel, and even though I loved the cel-shaded visuals ten times more than the 3D graphics of the original, I never put in half the hours into DBZBT2 as I did the first one. By the time the third game came out, I was over DBZ as an anime and had gotten into the world of RPGs. My fighting game days were pretty much over.
If I could put in that many hours into MKX again, meaning that I play nothing else but MKX and what I'm reviewing for work (which also means no more Platinum Trophy hunts or replaying RPGs or even starting Final Fantasy XIV), then perhaps I could have a brave enough face to show up at an open tournament. Although, I have a feeling that I'm past my prime with fighting game tournaments anyway, just with age and hand-eye coordination falling as sub-par compared to a 20-year-old.
Even if I was 20, though, I still wouldn't focus that much on one game. I like playing so many different games, and I like my stupid Platinum Trophies. But I really like watching these guys, and I really like how they motivate me to play the game more to try out different combos, attempt Brutalities, and try to master a character as much as I personally can. It makes me wanna go DBZBT all over again.