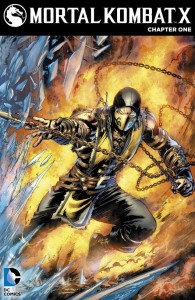 Last Friday was my birthday, and a dear friend of mine gave me a gift certificate to Comixology with the recommendation for the Mortal Kombat X comics.
Wait.
Wait.
Stop.
There are Mortal Kombat X comics? Are they as awful as the Injustice: Gods Among Us comics? How is the art? How is the writing?
About this time my friend told me to shut up and read the first comic for myself. It's a weekly comic series, which I think Injustice was as well, and it moves incredibly fast. Since there are so many characters in the game, the story arcs jump around a lot, but they're able to get away with it and keep it cohesive because it is a weekly subscription.
Long story short, I ended up buying all 30 comics available in the store, and I didn't play any games over the weekend because I stayed up super late every night reading the comics. I haven't gotten through the entire series yet, but suffice to say, I'm hooked. In fact, it's taking a lot of willpower to stay in my office today and work instead of reading the rest of the comics.
Once I do finish reading them, I want to replay the story mode of MKX. The comics really fill in the gaps that the story mode mentions of past events, and they help fill in missing pieces for people like me who haven't been MK faithful in many, many years. The stories do get a little dark and deep, the art is absolutely gorgeous, and it pokes fun at the franchise in all the right places. I even texted Chris late on Saturday night to order him to look into the MKX comics.
And I recommend the same for every other MKX fan, even if you aren't that into comics. Grrrr, it's going to be really hard to finish working today when I know those comics are just a tablet away…ready to read…