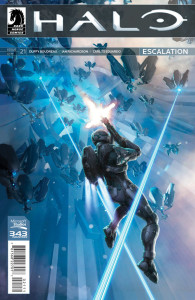 Halo day is nearly upon us; can you feel it? It's evident in the latest book releases, and tensions are running especially high in the Halo: Escalation comic series. Issue #21 released yesterday (my bad for being late), and everything is going pear-shaped for Jul 'Mdama, Halsey, and perhaps Palmer's team of Spartans as well. I am almost starting to wonder if the best recourse with all Forerunner technology is to just blow it into oblivion. Has anyone found any Forerunner tech that didn't have some sort of doomsday device with it? Trying to find the Absolute Record may have something similar.
Dr. Halsey has royally pissed off Jul 'Mdama, a Sangheili who could snap her neck with a flick of his fingers, but typical Halsey doesn't care. All she can see is her goal, and everyone else be damned who is in her path. As she reaches the Monitor guarding the entrance to the Absolute Record, she's learning that she doesn't always have command of the situation. In fact, if she really sat down and thought about it, she hasn't had command of a situation since the Covenant first touched down on Harvest. The only people who would defend Halsey are few and far between, and I think they all belong to Spartan Blue Team.
Uh oh, did I give away part of what Halo 5: Guardians may be about? Eh oh well if I did.
We're also in another situation with a Monitor who, like Guilty Spark 343, has had way too much time to sit alone and think. Therefore, he isn't going to follow set protocol that the Librarian established thousands of years ago. I guess this is what happens when
Halo: Primordium spoiler
you create AIs from living beings, as in creatures (mostly humans) who are still alive.
[collapse]
Halsey has never met Guilty Spark 343, and I doubt she had any clue that her life is once again on the line until the last couple of pages of this issue.
This is the third issue in the six-part sequel to the Spartan Ops story. After doing some quick math, the final issue will release after Halo 5: Guardians, which makes me now wonder how much this will really affect the next game. It's possible rocks will fall and Jul 'Mdama and Halsey will die, allowing ONI to clean up that mess and sweep it all away. That would also be the most disappointing ending to a series since Halo 2, and I'm going to pray 343 isn't that stupid. Well now I'm paranoid that they could be. Dammit, I shouldn't have done that.
All I can think of is how important the extended lore has been to the Halo-verse, and the comics have lead up to extremely important issues that should be tied to the game somehow. It's a matter of faith at this point.
Regardless of what they do with it, the current arc in Halo: Escalation continues to build a steady and solid foundation for quite the amazing story. Just a few more issues to go before we find out what's coming to Halsey. Maybe she'll
Halo 4 Spartan Ops Spoiler
lose her other arm.
[collapse]
Halo: Escalation #21 is available now via Dark Horse and Dark Horse digital.
Digital review copy received from publisher.