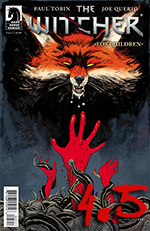 And at long last, we come to the end of The Witcher: Fox Children comic book series. Writer Paul Tobin outdid himself this time, especially since he absolutely tricked me into thinking this was the biggest let-down of an ending since Fable II. I was ready to tear this issue a new one after how each of the previous four issues were so riveting and kept me on the edge of my seat in anticipation and a bit of fear. That was how he was going to end it? Really?
REALLY?
And that's why you stay through a movie or video game until the very end, even after the credits, or in this case, until the very last page. No matter how weak a storyline is going, see how it ends, and then rip it to shreds. It's possible it pulls a Paul Tobin and yanks the rug right out of underneath you.
But no, I won't spoil the ending. I'm already afraid that I've said too much.
It's not only how the comic ends that makes me applaud Tobin, either. He carefully crafted exactly why Geralt is so afraid of the Vulpess and why he refuses to tangle with them to the point that the reader will, in turn, fear them just as much. In fact, if I ever come across one in The Witcher 3, I will board the first nope train out of that situation. The craziest part of the whole thing is that she never lays a hand or paw upon anyone, yet so many died by her hand.
Of course, words can only do so much, and once again, Joe Querio nailed the expressions of the Vulpess, Geralt, and the rest of the hapless shipmates. Most of the Vulpess's facial expressions were very subtle as she didn't show her face to everyone on the ship, but Querio was able to use the lines of her fur and whiskers and position of her eyes to beautifully present exactly what she is thinking.
With the close of The Witcher: Fox Children #5, I am both happy and sad to see it end, and I'm keeping my fingers crossed that CD Projekt RED and Dark Horse will team up for at least one more mini-series. They have something amazing here, and they should keep it going.
If you haven't read this series yet, now that all five issues are out (as of August 5, 2015), there's no better time to grab all of them at once. The Witcher: Fox Children #5 is available both retail and digital from Dark Horse comics.
Digital review copy received from publisher.