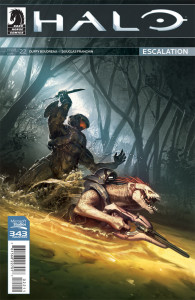 When a comic issue ends on a huge cliffhanger, you expect the next issue to follow through and hopefully lead up to a twist or a climax. Halo: Escalation #21 left such expectations, and then #22 fell completely by the wayside. I'm not sure if Halo: Escalation #22 was cut down from a bigger comic, if it was split up between this issue and the next, or if perhaps this was simply filler and there was no point in it at all.
At the end of issue #21, the monitor at the Absolute Record wanted to speak with all humans on board the installation, and that meant cutting out the riff-raff. We watched Jul 'Mdama's minions fall to their deaths while the rest of them are scattered and fighting amongst themselves regarding continuing to follow Jul. And of course, the Sangheili under ONI's payroll is stoking those coals a-plenty.
The in-fighting appears to have importance, especially when Jul steps out from whatever the monitor has planned for them and discovers that a mutiny has successfully taken place. Outside of that, however, what was the point of anything Halsey and Glassman and friends were doing?
Without dipping into spoilers too much, the monitor set up a test between Halsey and Glassman/Spartans, but then as it seemed both passed the test, the test was unveiled as a facade. Wait, what?
Now I have to wait another month to see why it was a facade, if indeed there was a reason? I'm no fan of the Forerunners, but I know they don't do anything without 10,000 insane reasons. There has to be a reason for this monitor to set up a test, and I'm more interested in why the monitor was doing it and why the monitor set up the test this way than what Halsey is plotting and what she uncovered. Since it ended with her essentially getting her way (AGAIN), will the next issue continue with her plans? Will we ever find out what happened with the monitor and his test? And if we don't, why did we bother with #22 at all?
The Halo: Escalation comic series has been some of the best extended lore out there with Halo, and while I understand not every issue is going to be a ringer, I'm disappointed this one felt so pointless. Of course, Halo being Halo, I'm sure some minute detail in this test will bite everyone in the ass either in the game or six months from now (if the comic series continues past the game launch). But for now, it's hard to see where this is going or why any of this issue was necessary on its own.
Of course I still recommend this series and I still say it's 100% essential for the upcoming game's lore, but I recommend the series with the caveat that this is a low point. Wait on this month until next month's issue releases so you can read it all at the same time.
Digital review copy received from publisher.