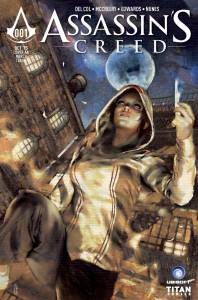 I'm an unapologetic fan of the Assassin's Creed franchise. It's true I haven't loved everything about it, but I think that only proves that I can see the series' flaws as much as the good points. The franchise is moving into the comics realm for their extended lore, and this first issue has as many flaws as it has strengths.
With the AC series, there has always been this struggle between getting the present day as interesting as the Assassins of the past. I think most can agreed Desmond Miles was a very flat, uninspiring character. As such he was unlikable, and not many cared what happened to him at the end of Assassin's Creed III. People liked Connor more than Desmond, and Connor was an incredibly poorly written character. In this comic, Ubisoft is trying once more to create a more interesting present day character than the past Assassin with Charlotte de la Cruz.
This first issue was all about Charlotte, who she is, what she's trying to do, and how she gets involved with the Assassins and Abstergo. The comic doesn't even reveal her ancestral Assassin's name in this first issue, that's how much they want the readers to focus on the present times over the past. However, they need to soften up Charlotte a bit, because right now, the writers appear to have confused "strong woman" with "bitchy," which is always a huge complaint of mine when writing women.
Charlotte starts the comic off playing a virtual reality video game that is obviously an Animus made for consumers so Abstergo can find out who has blood ties to Templars and Assassins. As she bounces back into the real world, Charlotte is hardly a likable person. She's your stereotypical angry woman with a giant chip on her shoulder who is ready to blame everyone for her problems but herself. She didn't get the job because she's not the interviewee's daughter. She's not rich. She's not part of the 1%. Her life sucks. Oh wait, but she's awesome because she steals money from a slumlord while at her banking job to help a woman take care of her daughter. It's okay to commit a crime when it's against a despicable person, right? Yeah, no.
I'm not a fan of Charlotte at this point.
Thankfully, Charlotte gets roped in by the Assassins and plunges head first into the Animus and we "meet" her ancestor during the witch trials at Salem. And for once, Charlotte has to learn to really play the game instead of bitch about how the game is played. No, she can't change what her ancestor would have done. No, she can't scream about how unfair life is, because life isn't always fair. Maybe this experience will make her more likable. At least, I really hope so.
It's an interesting start to the comic, and I'm curious to see where it will go from here. I also hope that the art continues to be as beautiful as it is here, as the art is this comic's best asset thus far.
Assassin's Creed #1 releases on October 14, 2015.
Digital review copy received from publisher.