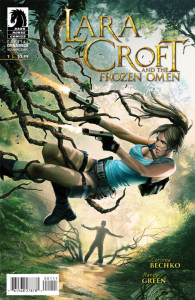 So here we go again; another Tomb Raider comic from Crystal Dynamics and Dark Horse. I almost didn't read it. I was so close to being that person who refused to give this series another chance. How does that saying go? Fool me once, shame on you; fool me twice, shame on me. I wasn't going to be fooled twice. But then I remembered I'm not a complete jerk, this is a new series, it has a new team behind it, and everyone and everything deserves a second chance. I'm so glad I got over myself and read this issue, because this, Crystal Dynamics, is how a Tomb Raider comic should be. Lara Croft and the Frozen Omen has blown all of my expectations out of the water.
Okay, I admit my expectations were super low, but I still came away wanting to cheer with excitement.
First of all, the colors are bright, vivid, and completely jaw-dropping. Michael Atiyeh has always done amazing color with the Tomb Raider comics, and maybe it's the different artist for the pencils that makes Lara just pop on the page. I wish I didn't have an NDA with these comics so I could show exactly what I'm talking about between the colors and art of LCFO and TR. As I scroll through my digital review copy, I can't help but stare at Lara's eyes, even on the small panels, because the art and colors make them simply come alive.
Story-wise, this Lara Croft is in Crystal Dynamics' Lara Croft and the Guardian of Light and Lara Croft and the Temple of Osiris, their top-down four-character puzzle titles. Lara is a beloved employee of a prominent museum in London, she's known for being badass, and she's essentially the British female Indiana Jones that Lara has been known for. The tale starts off with Lara scaling a cliff while looking for one of Carter's falcons (Carter was her partner in the previously mentioned games), and then quickly moves to Lara chasing down a possessed museum curator who has stolen a priceless artifact.
See? This is how you make a Tomb Raider comic.
Lara is being adventurous, there's no one to tell her that she's scaring them, she's proud of who she is, she's bold, she's smart, there's a bit of supernatural at play, and best of all, there is no Yamatai or the blasted Sun Queen. There's no dead companion rising from the ground and telling her to go save his sister. There's also no defined plot just yet, as this is the first issue. We know the curator stole the artifact and the villain behind it is rather demonic, but we don't know who he is, what he wants with the artifact, or how what happens to Lara at the end happens. But hey, that's more than enough to keep me intrigued to find out.
I admit it; I'm more stoked about a story that isn't about the Yamatai and doesn't have people questioning how Lara is able to save them from horrific things. It really didn't take much to be pleased about this new comic, and yes, everything could get messed up down the line. The Yamatai could weasel their way back in. But for now, I am incredibly hopeful that it doesn't go down a wrong path, and we keep with this Crystal Dynamics version of Lara Croft.
The first issue of Lara Croft and the Frozen Omen is available today at retail and digital via Dark Horse. Pick it up for a really fun Lara Croft story and the art. Just…just enjoy that amazing art.