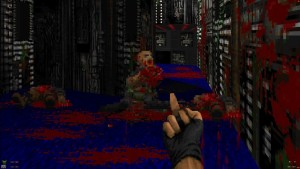 I've been stupid busy working on my house. With winter just around the corner, I've taken on to putting a band aid repair to my old windows to help them stop leaking so much heat out. With that major distraction going on, I've been too beat to really tackle bigger games. I haven't even sat down to enjoy Disgaea 5 like I really want to.
This is where mindless games in short bursts comes into. Usually I finish working on the house around 6PM. I make a quick dinner. I pour a drink. I sit down at my computer and generally space the fuck out. Ripping apart windows may not seem like much, but by the time I finish any other work on the house, I'm beat. So, I load up Brutal Doom and lay waste to everything in my path. It's violent and oh so satisfying.
The one game that catches me off guard is Cities: Skylines. Maybe it is all the years I've play the Sim City games, but I can play this game no matter what. It's just so damn fun. I always learn something new and each new city I make gets that much better. I am kinda mad at myself for not picking up this game sooner.
Thankfully, I should be done with windows next week and can take a few days and just chill and enjoy some gaming. With that, it's time to go get back to painting some trim pieces.