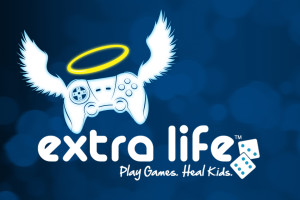 I hope you're not sick of hearing about Extra Life, because here I come with my own article. Sadly, I could not participate in the event on November 7th due to being the lead photographer at a wedding on that same day. I am still planning to participate in the event however, just two weeks later.
I've debated how to handle my participation in this wonderful event. I am currently thinking that instead of a 24hr marathon, I'll be breaking the event into chunks. Why, because it allows me to have more fun with it. I'll be streaming some Life is Strange on Thursday (11/19/2015) so that Keri can watch the stream. I'm thinking Friday night (11/20/2015) will be an adult beverage kind of night, and that'll make games like Mortal Kombat X, a bit more entertaining! Saturday (11/21/2015) will be an MMO kind of day where I play World of Warcraft and Final Fantasy XIV all day. I'll wrap-up on Sunday (11/22/2015) with some retro games and various other games that I just feel like throwing into the mix. It should be a great four days of gaming.
Yeah, I know it's supposed to be 24hrs of straight gaming, but I have done that for three years in a row. This year I just want to have fun with it, and that is what I intend to do.
There are also a few goodies for those who donate to me. For $25 you are automatically entered to win a limited edition photo. There are a lot more details on how this works, and I'll go over those with the winner. Blake has also graciously donated a boat load of Steam codes for various games. Again, a $25 donation gets ya a code of your choosing. The list of games he has generously offered up is:
AirBuccaneers,
The Bard's Tale,
Bastion,
Batman™: Arkham Asylum GOTY,
Batman™: Arkham City GOTY,
Batman™: Arkham Origins DLC,
Cave Story,
Chaser,
Costume Quest,
Crusader Kings II,
Deadlight,
Dear Esther Steam Key,
Dino D-Day,
Dream Pinball 3D,
Dungeon Defenders + All DLC,
Europa Universalis III Complete,
F.E.A.R.,
F.E.A.R. 2: Project Origin,
F.E.A.R. 3,
FEZ,
FTL: Faster Than Light,
Galcon Fusion,
Guns of Icarus Online,
Hotline Miami,
Legend of Grimrock,
LIMBO, Magicka,
Mark of the Ninja,
METAL SLUG 3,
Nightsky,
Nuclear Dawn,
Orcs Must Die! 2: Complete Pack,
Really Big Sky,
Shank 2,
Shattered Horizon,
Sniper: Ghost Warrior 2,
SpaceChem, STCC II,
Street Racing Syndicate,
Ticket to Ride, Terraria,
Toy Soldiers,
Trine 2: Complete Story,
The Binding of Isaac + Wrath of the Lamb DLC,
The Walking Dead, Warhammer 40,000: Dawn of War,
Worms Reloaded,
Worms Ultimate Mayhem,
Worms Pinball,
Zeno Clash
Told you it was a lot of games. Mad thanks to Blake for the keys! If you'd like to donate, you can do so here: Chris Nitz Extra Life