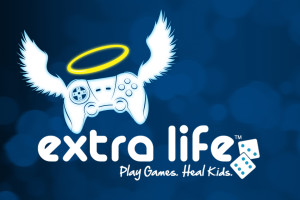 Well, Extra Life 2015 is now in the books for me. I spread my 24, which turned into 38, hours of gaming across four glorious days. I did this so I could have fun while still doing adult things like working. Honestly, this is probably the best way to tack Extra Life and I'll continue to do it this way if I decide to do the event in the future.
I started out by playing Life is Strange. This is a game that Keri told me to play thanks to her donation. I already knew that Keri very much enjoyed this title, so I was looking forward to it. The bonus for this is that I also setup my PS4 so I could stream the game and Keri could watch to see how my decisions changed the story. I streamed it all but Episode 3, in which I was playing while tackling dinner and talking to my wife. You can watch the replays, some are a bit of a drunken stream, on my Twitch.TV station right here: http://www.twitch.tv/starvenmarven
On Friday, I played some Star Wars: Battlefront, then switched over to some Tales of Zesteria. I closed out the night by ending my first playthrough of Life is Strange. That game really was good. I also dug the soundtrack for it so much. Seriously, check it out.
Saturday was my MMO day. I loaded up World of Warcraft and continued working on my Worgen Priest. I finally hit level 60 and even secured my flying mount. Only 40 more levels to grind out. When I worked on supper, I fired up Final Fantasy XIV: A Realm Reborn and got that patching. Food consumed, it was off to play some FFXIV. I admit, it was really difficult to get back into this game after taking almost a year off from it. Most of my six hours playing it were spent relearning controls and what the heck I was doing. When I finally logged off, I was slowly getting back into the groove of things.
Sunday was a day of randomness. I just played anything that interested me. I played some more FFXIV, WoW, and even some Star Wars: Battlefront. What consumed the bulk of my night was Tales of Zestiria. As I'm working on the strategy guide, I figured that was a good way to close out the event. I only planned to play for two hours, but ended up rocking the game for almost six hours. If you liked any of the previous Tales games before, this is a great addition to the series. Check it out.
Here it is Monday. I didn't hit my Extra Life goal of $500. Part of that makes me sad. Then I was reminded this morning why I probably didn't reach my goal. This morning I saw three new GoFundMe campaigns stroll across my Facebook feed. This has really driven me to some disinterest in future Extra Life events. It's not that I don't enjoy doing the event, and I do so love helping out sick kids. However, I just can't compete with the constant barrage of people hitting social media with their hands out looking for money. I believe that constant stream of people asking for money is a big part of why for the first time in four events, I didn't hit my goal. As much as I want to do my part to boost the signal of this great event, I just feel…dirty for joining that river of people constantly blasting friends walls asking for money.
Will I do Extra Life again next year? Most likely. Will I sign-up and join the stream of people asking for money? Probably not. I will most likely just donate to friends who are also doing the stream and just send out a status or two that I'm doing the event in spirit. Then again, Extra Life 2016 is a year away and my thoughts on this might change by then. I guess we will just have to wait and see. Until then, thanks to all those who donated to me, stopped by when I was streaming, and those who just passed on links to Team SGR. We all helped to make the lives of sick children just a little bit better. That is something to feel good about!