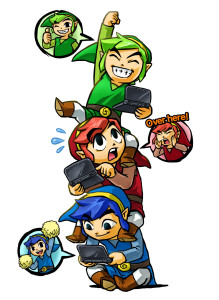 So what the hell happened to Monday? Good God everything went by so fast yesterday that I realized when I was picking up the kids from school that I hadn't made my Monday Gaming Diary post! And I actually have real things to say for once and not blah blah I've been reviewing a crap ton blah blah.
I'm back in the strategy guide reviewing game, and even though I've already played Assassin's Creed Syndicate and I know what I want from the guide, I'm still working through it to make sure it does what I need. As a result, I'm "forcing" myself to run through all of the areas and try to clear them out as best as I can with the guide's help, and this means collectibles first and foremost. I better get every single damn Trophy for the collectibles.
And guess what? Stabbing people on a whim is still a lot of fun!
At night, I've found that playing handheld games is easiest while I'm still single parenting, so it's been a lot of The Legend of Zelda: TriForce Heroes. While this game is definitely meant for co-op, you can play it alone, although it makes it so much harder. I've almost rage quit it a couple of times because I ran into a situation that was obviously meant for multiple people, particularly a few boss fights. The strategy guide has been my saving grace on so many counts because of this.
TriForce Heroes is a lot of fun after you get past the weirdness of it. It's weird in that it's not your typical Legend of Zelda game, and I don't mean that in a Majora's Mask way or even a Hyrule Warriors way. I imagine that this game came about from a fateful developer's meeting when someone said, "I want to make a Legend of Zelda game that's like Portal, but without Zelda or a Portal Gun. And we need to throw in some dress-up Barbie mechanics like Final Fantasy X-2." And the executive presiding over the meeting said, "I like it!"
At least so far, there is no Zelda or even Hyrule. The fashionable kingdom of Hytopia had a very stylish princess, and the Witch of the Drablands was so jealous of her eye for fashion, she stole her clothes and cursed her to dress badly. Now everyone in Hytopia is afraid to be chic, which is killing the fashion industry and making everyone rather sad. Whenever times are bad, the kingdom looks for the legendary TriForce Heroes to come and save them, which is the player and two of the player's friends.
Also, instead of exploring an open world and going dungeon crawling, Link can only travel to one dungeon at a time, he's given a set number of heart containers and specific weapons. It's the player's job to figure out how to get through the rooms and defeat enemies with the weapons given. At the end of the dungeon, Link is rewarded with a material, which he must take to the Hytopia seamstress and have her make an outfit for him that grants him certain abilities. For instance, the Kokiri Outfit allows him to shoot three arrows at once. The Big Bomb Outfit turns all bombs into, well, large bombs. Solving the puzzles relies upon as much as which outfits you pick as how to use the weapons efficiently.
As a result, I stay up rather late swearing I can find a way to beat this puzzle before turning to the guide. It's silly. It makes fun of itself. And despite how frustrating it is at times, it's a lot of fun.