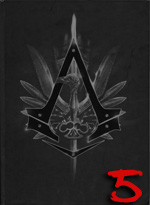 The Assassin's Creed strategy guides have always been done by the Piggyback publishing group in Europe and then distributed by Prima Games in the US. I had a rough start with the AC guides, but with each game, the guide presentation and information improved along with the gameplay. Well, except for Assassin's Creed III, which had a fantastic strategy guide to accompany an abysmal game. When I heard that Piggyback would not be supplying the US edition of the Assassin's Creed Syndicate strategy guide, I was nervous about it. Would they take from the pages of Piggyback's guides and continue with that format of maps, parkour strategies, and collectible hunting? Why yes they did, and if you use the Assassin's Creed Syndicate strategy guide, I can personally guarantee you will have all the tips and tricks to get that 100% synchronization, including all of the collectibles.
Did I achieve 100% synch? Oh hell no, but that's because I thought some of the challenges were stupid. Get through this mission without killing anyone? What? Is this Pacifist's Creed or Assassin's Creed? I don't play this game to NOT stab people. Come on, seriously.
Walkthrough
Assassin's Creed Syndicate is roughly half main quest, half side quest and collectible hunting. I spent more time collectible hunting than doing anything else, but that's simply because there are so many. Plus it's easy to get distracted while on the way to a mission when more blips suddenly appear on the mini-map. That said, the main missions are rather meaty and long, and they were no menial task. For the most part, if you keep your levels above and beyond what is suggested, you can easily coast through most of the missions. However, if you want to do more than coast, such as accomplish all of the challenges for that 100% synchronization or find the easiest routes for accomplishing the task without trial and error, then the strategy guide is definitely your friend.
It's particularly perfect in giving tips for all of the challenges for each memory. Sometimes the way to complete a challenge isn't entirely obvious, such as using smoke bombs to avoid killing police for one mission, and the strategy guide illustrates them both figuratively and literally. The challenges are always set in their own bold headers, so the reader can't miss them when using the guide for the walkthroughs.
For any missions that may require particular paths to be taken, the Assassin's Creed guides have always presented these pathways with a screenshot and a red arrow that kindly marks the way, complete with jumps and places to hide. Prima has adopted this established method, and they've thankfully made each screenshot with the designations as large as they need to be. As such, they aren't uniform in size, but who cares when you can actually see where you need to go. From a document design standpoint, it isn't visually appealing, but in this case, usefulness wins out over aesthetically pleasing design.
In addition, several end missions for a Sequence have a major assassination for Evie or Jacob to commit, and each one has various opportunities available. Each mission presents unique ways to infiltrate the compound, different methods of getting close to the target, and additional targets and challenges. The strategy guide lays out what each alternative consists of so the player can easily decide which method suits his or her personal gameplay preference. Believe it or not, I preferred the stealth way of getting to my targets instead of the combative method, and if I couldn't figure it out on my own, then the strategy guide was a lifesaver.
Side Quests and Collectibles
Roughly half of the strategy guide is dedicated to both of these elements, and no stone was left unturned with either of them. Most of the side quests are little missions you can do for your Associates, such a raiding boats on the Thames or participating in a race, many others are in regards to clearing out Boroughs of Blighter control, and a few more are extra London stories that can be completed at any time.
Each Borough activity is explained, various methods are provided for accomplishing them, and all challenges are also detailed. The Templar Hunt section is particularly useful, as it lists each Templar, where they are, and the easiest way to kill them via the challenge prerequisite. Most of the other Associate activities are fairly self explanatory, such as the Fight Clubs and the Races, but I was downright awful at any Cargo Hijacking for Ned Wynert. The only way I could successful steal cargo was to stumble onto it and kill the Blighters before they manned the cart. If they were already driving down the road, I was never going to get them. The Assassin's Creed Syndicate strategy guide, however, provided some tips into successfully taking down an already-moving caravan. Although as the guide points out, it's far easier to hijack cargo before it goes into a caravan, tips or no tips.
As for the collectibles, this game probably had more collectibles than any other AC game before it. There are the Helix Glitches, the chests, locked chests, pressed flowers, letters from the Queen, World War I letters, Secrets of London, posters, and beer bottles. For this strategy guide to win the prize, it would have to help me find all of them, especially the Secrets of London and letters, as there are no maps I can buy with in-game currency (the Helix Credits do not count as in-game currency). Yes, you can use the Progression Log for clues where to find the Secrets of London, but who has the time for that? I know I certainly don't. Thanks to the guide, I spent only an hour scouring London for each Secret, netting Evie her Legendary Armor. For each collectible, they are marked on different maps of the regions (the chests get their own map because boy howdy there are a ton) and then each has exactly where it can be found, such as on the rooftop, under stairs, etc.
This right here is exactly why the Assassin's Creed Syndicate strategy guide receives as high of a score as it does.
Appendices
The appendices are decent, although I have to admit I never really used them since everything in the appendices can be found in the main menu to begin with. However, if there are some weapons or gear you want crafted that are grayed out and therefore don't know what they are, the appendices has them all listed and how to obtain them, including those that can only be unlocked via uPlay.
The most important appendix, of course, is the one that lists all of the Achievements and Trophies. Not only does it list all of them and the requirements, but the book also gives tips for obtaining each one. I wish this was precedent for each and every strategy guide.
Final Word
Prima Games has undoubtedly carried on the fine tradition that Piggyback progressed to with the Assassin's Creed Syndicate strategy guide. I couldn't be more pleased with this strategy guide, and in case you didn't notice, I had zero complaints about this one. That could be a first for AC strategy guides.
If you want that 100% completion and Platinum Trophy, then this strategy guide is your perfect personal assistant for doing so. I cannot recommend it enough for any fan of the series.
SGR Rating: 5/5
Authors: Tim Bogenn and Will Murray
Publisher: Prima Games
Editions Available: Collector's Edition and Paperback
Review copy acquired via publisher.