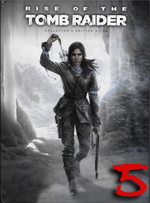 Rise of the Tomb Raider is more than your typical action/platformer with lovely puzzles to solve; it's about exploration, raiding tombs/crypts, and finding every last damn collectible. A lot of the collectibles are marked on the in-game maps when you near them, but not the coin caches and definitely not the challenges. The Rise of the Tomb Raider strategy guide, kindly provided by Prima Games, is the best source for getting that 100% completion rating with tombs, caches, and side missions.
How does one book fulfill that tomb raiding explorer inside? Let me show you…
SGR Rating: 5/5
Authors: Michael Lummis and Chris Burton
Editions: Paperback and Collector's Edition
Publisher: Prima Games
Review copy acquired via publisher.