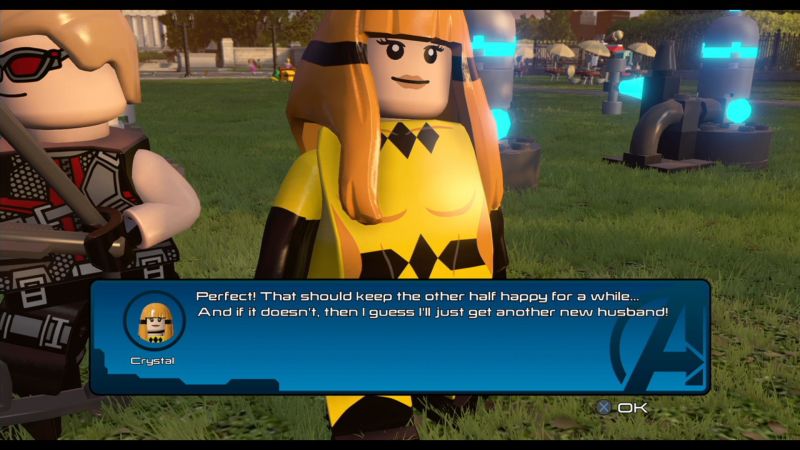 Last week was insane for my review schedule. Three reviews written and published last week, all while the husband was once again out of town. This weekend, even though I have another game to review, I refused to work on it. Instead, when I did sit down to play a game, I focused upon LEGO Marvel's Avengers, because seriously, I do have a strategy guide to review, and the best way to review is to nab that 100% completion.
I played way too much last night as a result, and my eyelids are already heavy today, which should make my Monday podcast very entertaining.
But!
I have made some great progress, as in I've cleared 3 of the Hub Worlds and completed all of the Free Play mode for the missions. So that's about 4 Hubs to go, and one is all of Manhattan. I'm saving that one for last because I'm dreading it something fierce. Such a huge Hub World is a big reason why I never got the 100% completion in LEGO Batman 2 or LEGO Marvel Super Heroes. It's probably not so bad if I tackle it piece by piece, but this shit overwhelms me most of the time. That's kind of also why I haven't completed either Dragon Age Inquisition, The Witcher 3, or Xenoblade Chronicles X. I love all three, but day-um they be big.
Today I decided to spend Lunch with LEGO, and perhaps I'll make that a tradition. Gotta plow through these games somehow, and it's fun to break up the day with a game for enjoyment instead of work.
And speaking of that, I should get to the PC RTS game I am reviewing for this week. But maybe I'll clear the Barton's Farm Hub first…