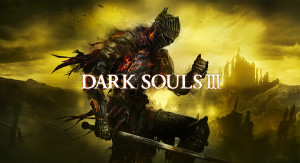 If you've been around this site for any length of time, you know that I enjoy the Souls series a lot. I've reviewed all of their strategy guides. I've died more times than I even care to remember. I've cried at the amount of souls, or Blood Echoes when it comes to Bloodborne, I've lost due to a second death on the way to retrieve my bloodstain. It's a good time. Thus, I was really excited when I saw people streaming press copies of Dark Souls III on Twitch.TV yesterday.
It was all going well until one streamer I was watching went into some of the details of how and what they could play. You see, they received a press copy of the U.S. version of the game. This version is not out for another two weeks. Therefore, he is under an embargo on what he can and can't show. Essentially, he is free to explore and play the first third of the game.
Now, I'm not saying embargoes are bad. This is also a very common practice with the rise in popularity of Twitch.TV. It is a way to bring on the hype for a game that is releasing soon. It's why we see high profile streamers getting beta keys for games like Overwatch. Heck, even Bloodborne had this same treatment right before it came out. I embrace this as I often use streams as a way to determine if I am going to preorder a game that is on my radar.
However, the embargo set on Dark Souls III is poorly thought out. While most of the people on Twitch.TV were streaming some form (PS4 or PC) of the U.S. version, there was one person streaming the Japan version. The hitch here is that the game is officially released in Japan. Thus, there is no embargo on the Japanese version. This streamer can stream all they want with no repercussions.
I get that the publishers don't want to give away too much on this game. However, this is poor planning. This streamer knows enough Japanese to be able to play the game effectively. If they run into something they might not be able to translate, they just turn to their chat. Guess what? Even more people can read it and translate it for them. So publishers acting like U.S. people can't read another language is just foolish.
To me, this embargo makes no sense. They are restricting one region, but not another. Why not just go no embargo as the game is getting fully streamed on other channels because those streamers can understand both languages? Or better yet, release the game simultaneously in both regions. This planning is almost as bad as Capcom releasing a partially finished Street Fighter V because they wanted it out for tournaments. Note that I said almost. Capcom still set that poor planning bar pretty high.