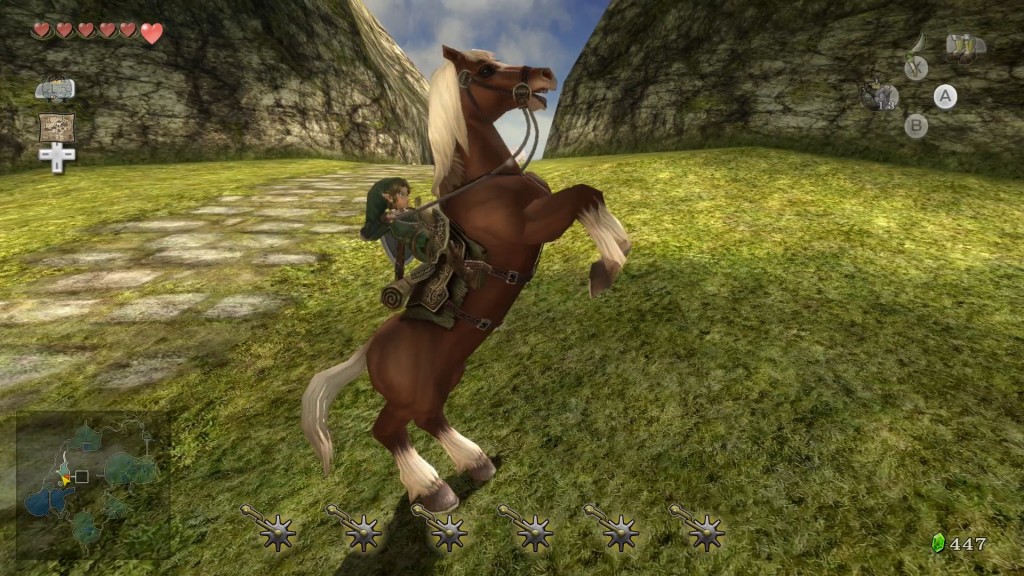 As I have said way too many times, I played Twilight Princess when it first released. I remember having a lot of fun with that first dungeon, even though it took me a long time to get through. Looking back, I know now that I was not skilled enough as a gamer to get through that game, much less on the Wii controls. It took me nearly 6 hours to get through the first dungeon the first time I played. I think I did from the start to the end of the first dungeon in 3, maybe 4 hours.
And now, I can't stop playing.
I try to play a little bit before I head upstairs to work on my other reviews, as I can play on the Game Pad while the family enjoys TV time. But somehow, when it's time to put the kids to bed and time for me to go to work, I can't bring myself to stop. And the next thing I know is that it's nearly midnight and I haven't done a thing for work.
I feel really guilty, but at the same time, I kind of don't care, which is all kinds of confusing.
Was Twilight Princess always this fun? I am I just now discovering how great it is because I'm not as terrible with Zelda games? Because they don't intimidate me like they used to? Is it because I don't get as frustrated with failing as I used to? Or is it because I'm using a controller instead of the Wii Remote?
Or all of the above?
If it's mostly because of the controller, which I think is a good portion of it, then I should have played this on the Game Cube in the first place. I have a copy for the GC, including the GC guide; not sure what stopped me before, if it was time or fear. Probably fear. It's hard to argue I don't have time when I stopped everything to finish Dragon Age Origins and Dragon Age 2.
But seriously, the game is far more fun than I remember. Every time I start to work on a review, I instantly think how I'd rather be saving Hyrule. That thought is closely followed by, I wanna save New York. If I could split my time between Twilight Princess and The Division, I'd be the happiest gamer in the world. But even then, I think I'd want to play more Twilight Princess.
Although, no more jousting boss battles. I was so terrible at that. The only reason why I finally defeated that boss is because the game pitied me. There there, you tried so hard to not careen over the bridge; here's a freebie on us. You did good, oh yes you did! You tried so hard!