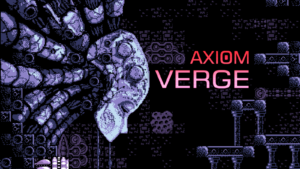 I was recently gifted a PS4/Vita (thank you cross-buy!) copy of Axiom Verge. I've known about this game for some time now. I've watched plenty of streamers playing it. It's one of those games that has been on my wish list for months, but I've never managed to snag it on a sale. Well, that issue is now resolved!
For those that might not know the backstory on this game, it is a Metroid inspired game that was completely developed by one dude. Tom Happ (developer) did basically everything for this game. Like the art? Thank Tom. Dig the soundtrack? Thank Tom. Love the level design? Thank Tom. This just blows me away so much. Then again Tom Happ is no slouch when it comes to games as he has worked on games such as End of Nations and NFL Street in the past.
The game took five years for him to make, and it started as a side project. Outside of photography, I don't know that anything I've started as a side project held my interest for five years. I don't even know if a side project lasting longer than a year ever even saw completion. So bravo to Tom for this feat.
The game itself is a ton of fun. I figured I'd like it, but I never thought I'd enjoy it as much as I do. The controls are tight. I've found the level design to be pretty fun. While enemy models tend to be a tad slim, and a bit recycled in some instances, they are well done and fit the world rather well. Heck, even the bosses are unique and provide a nice challenge as I try to figure out how to best them. There are times I'll just sit at the title screen to enjoy the music. My one complaint I have found so far is that the story is the weak point. It's fairly meh and somewhat predictable thus far in my tromping through the world.
The last I checked, I've logged just under nine hours in the game. So far I have uncovered 65% of the map and  found 55% of the items/weapons scattered about. Anyone who loves a Metroid style game will find themselves right at home here. There is a big emphasis on moving into a new area, finding a new weapon or item, and then backtracking to old areas to use their new found powers to unlock areas that were sealed away by various barriers.
There is definitely some replay value here. Once I beat the game, I'll try it on a harder mode. Looking at the trophy list, there is even some desire to try to beat the game in under four hours. I know I sure as hell will never get the no death trophy, but that is okay with me. Right now, I'm loving the game and wish I had snagged it sooner. And all this fun is thanks to one dude…..CRAZY!