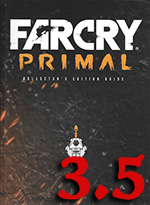 I have had the fantastic opportunity to review some very amusing games lately. Fortunately, one just so happened to line up with a strategy guide that I could cover in my first ever strategy guide video review. There are several pieces of the Far Cry Primal strategy guide that are constructed very solidly. However, by virtue of it being an open world game, the organization of the guide itself needed to be a bit more open-ended. That is where the problems began…
There are quite a few things to discuss about the guide itself, both good and bad, so I will let my review speak for itself.
Author: Will Murray, Michael Owen
Publisher: Prima Games
Editions available: Hardcover
Acquire via publisher
PS: I just ask that you be gentle. This is my first time being in front of the camera by myself, so naturally I may come off as a bit nervous. Hopefully this is just a tentative first step into a much bigger world. Thanks for indulging this n00b!