The PlayStation Gear Store has announced a Collector's Edition for the Uncharted 4: A Thief's End strategy guide, which looks absolutely stunning.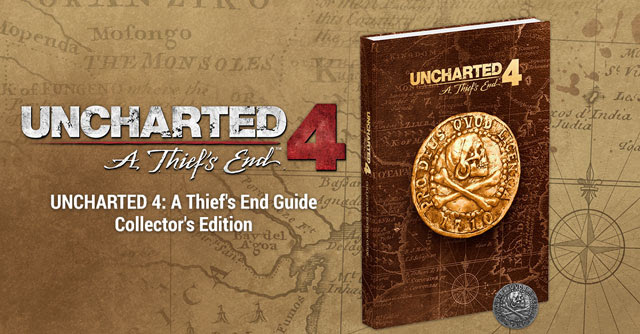 I had a feeling Prima Games was crafting together a Collector's Edition for the strategy guide, since they did put together a nice one for Uncharted 3. However, unlike that CE, this one doesn't include as many tangible perks.
In addition to the rather gorgeous hardcover, the Collector's Edition will also include a pirate sigil coin in silver. The PlayStation Gear Store also lists the following will be included, which all also should be part of the paperback strategy guide as well:
Complete walkthrough: 100% coverage of the entire adventure!
Detailed maps: Illustrated maps of every area, along with tactical advice and advanced playing strategies.
Find everything: Locate all the treasures and collectibles.
Multiplayer coverage: Packed with tips and strategies for conquering opponents in every mode.
Free mobile-friendly eGuide! Includes a code to access the eGuide, a web-access version of the complete guide optimized for a second-screen experience.
For a price tag of $40, you have to offer a bit more than what is in the paperback guide, and a silver coin and hardcover just aren't enough. Are the maps special fold-out maps that only appear in the CE? Is the coin real silver? Is it solid silver? Are the maps cloth maps? Is there special art in the back that's only in the CE?
We need a bit more information before boarding the hype train just yet. Don't get me wrong; the cover is beautiful, and the coin looks pretty darn cool too, but not $40 beautiful and cool.
Uncharted 4: A Thief's End will release on May 10, 2016.