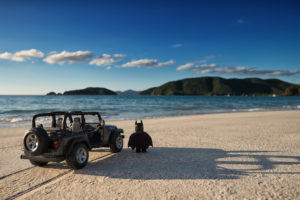 It seems we just skipped right past spring and jump right into summer. At least that is what it feels like here in Iowa. We had maybe a week or two of spring, but the temps are rising and it is already feeling like summer. Not that this is a terrible thing. I mean, it's way better than blizzards and sub-zero temperatures.
This also means busy season has arrived. Keri gets to take care of kids that are no longer in school. So her life is about to be hectic. That's on top of her work trips to places like E3. As for me, I get to enjoy countless miles on the road. Heck, as soon as I post this article I'm off to Wisconsin to work on my truck. A week later it is off to Colorado to pick up a few friends, and then we head off to Wyoming to take photos of mountains and such. Good times.
With all this craziness, we won't be around as much until fall comes back to great us. This also means we have some time to start looking at new ideas for content for SGR. This is where I turn to you. While we have a few ideas in the oven, mainly new video content, what would you like to see more of? What features would you like us to look at and possibly implement down the road?
I have a lot of road to cover over the next few months. Thus, I'll have plenty of time to contemplate new ideas and how to implement them. Exciting times are ahead. Until then, I need to go pack and hit the road.