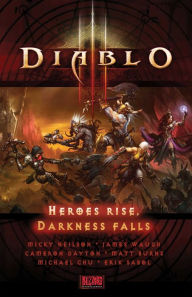 I am not sure how I missed the word on a couple of Diablo III e-books, but I did and I rectified the matter before I went on vacation. They were both super, super short, and I managed to read them on the plane rides to and from Colorado. Diablo III: Heroes Rise, Darkness Falls is a collection of short stories that takes place right before the star falls in the opening of Diablo III. The stories are as sweet as they are short, and they truly focus on the psychological horror that the game attempted to emulate, and yet did not because it's too darn easy to skip through all the dialogue.
Many of the short stories are about the six classes available in the game, and how they became involved in the upcoming events for Diablo III. Several of them ended with the falling star and the main character heading off to New Tristram to check it out.
While those were fun to read, especially considering the genders the writers chose for each class, it was the last two stories that were the best out of the bunch. The last two take place in the world of Sanctuary right before the star fell, but they have nothing to do with the classes or even the main characters of Diablo III. These are two extremely twisted tales from this world that show how horrific Sanctuary truly is with the demons and angels constantly battling over it.
"Theatre Macabre: The Dark Exile" really explores the psychological horrors of Sanctuary, and taps into the king of all psychological horror–Edgar Allen Poe. I personally compare this story to "Telltale Heart", but it's definitely not a copy of Poe's famous short story. Definite inspiration from Poe and his tale, but there's more than enough Diablo to make it unique, and almost more terrifying.
"The Hunger" is not psychologically horrifying, but it's more of the gory horror Diablo III presents at every turn. Remember those barrels of heads in the Mad King's castle? The undead minions that could still crawl toward you even with their bottom halves missing, entrails dangling and all? "The Hunger" is the most visceral of all of the short stories, and probably should be avoided if you have a queasy stomach. There's no way I could have read this one while pregnant, when I couldn't handle gory violence in the slightest without getting sick.
While Heroes Rise, Darkness Falls is not required reading for the Diablo III game, it's a nifty little insight into the world of Sanctuary that can be read at any point. No other books are necessary before delving into this short collection. That said, I cannot recommend this e-book enough for those who enjoy the Diablo-verse, or who enjoy psychological horrors, period.