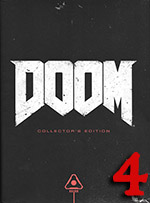 Without a doubt, DOOM is my shooter of the year for 2016. Bethesda and id have done so much to get back on track with the Doom franchise, and DOOM does exactly that. It hits all those lovely nostalgic notes all while keeping the gameplay fast and fresh. I cannot wait for the inevitable sequels to come. That said, however, how does the DOOM strategy guide stack up in comparison?
The DOOM strategy guide does a lot well, but a few things frustrated me too much to give the overall guide that perfect score. Actually, in that regard, it's a lot like the video game itself. Our DOOM strategy guide review goes over all of that, and I try not to talk too quickly. I think I failed in that regard.
And ignore the page torn out of the book. Toddlers and strategy guides just don't mix. There's your PSA of the day, folks.
SGR Rating: 4/5
Authors: Michael Owen, Doug Walsh, and William Murray
Publisher: Prima Games
Editions Available: Paperback and Collector's Edition
Acquired via Publisher