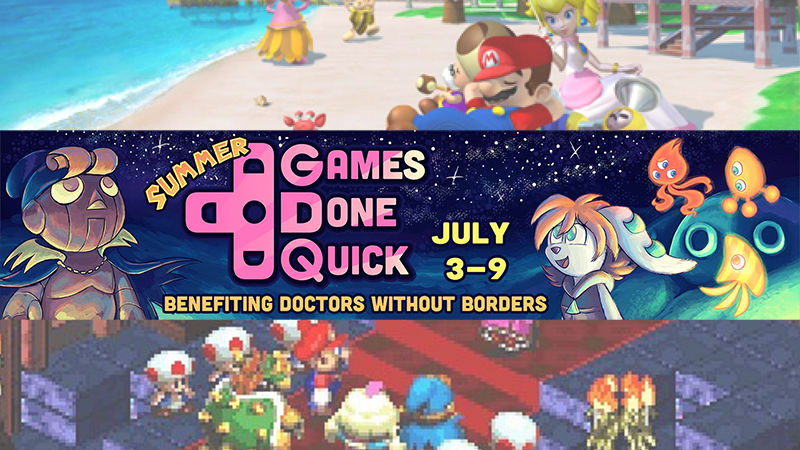 This week, most of my life was hijacked into watching this year's Summer Games Done Quick, the 24/7 speedrunning marathon that goes one week in the name of charity. Some of the speedruns were races against one another, but most of the runs were just in good fun. I never heard of this event until last winter with Awesome Games Done Quick, when Chris suggested I give it a look. Yeah, I was hooked.
All day during work, I had the Twitch stream running in one monitor. In the evenings, I ran Twitch on our TV downstairs. I stayed up way too late some nights watching some of the speedruns I was highly interested in, such as the Bethesda block where I watched a guy get through my 10 hours of Skyrim in five minutes. I even enjoyed watching the runs of games I never heard of, just to hear the guys and girls playing discuss what they love about the game and explain what they are exploiting to speedily dominate this particular section.
There were plenty of runs that I missed due to airing in the middle of the night or because I had class this weekend, but I'm so glad I got to see the Super Mario Bros. 3 and Super Mario World runs as well as the Super Metroid race. I've never played Super Metroid, and you can bet your ass I'll never try it now. Never.
I had to sign off for bed after the Super Metroid race, and they were only holding one more run after that, Super Mario RPG. I was pretty sad to realize that I was turning it off for another six months, as this is some awesome gaming. I'll never have these skills, and I'm really okay with that. I've always enjoyed watching people who were better than me at games, and there's no better place to do that than Games Done Quick.
Now to wait until January for the next Awesome Games Done Quick. Until then, I'll keep checking their archived runs so I can watch the runs I missed.