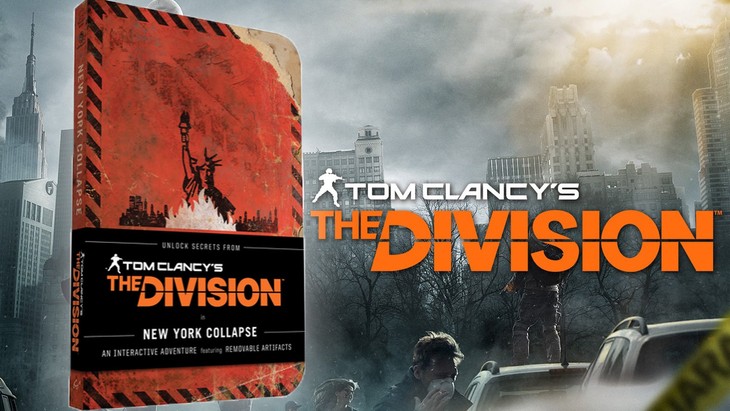 New York Collapse is a companion novel to Tom Clancy's The Division, and like most things I own, I've had it quite awhile. I don't know why I didn't read it sooner, but now that I've read it, I wish I had waited even longer to do so. New York Collapse itself is a survival guide book for what to do in case the largest city in America, New York City, collapses due to a catastrophic disaster. The book claims to be written by a Warren Merchant, but this is a pen name for a government administrator who seems to have way too much knowledge and insight to the future regarding the city collapsing due to a flu outbreak. While that's interesting to read in of itself, the main draw to the book are the handwritten notes from April Kelleher, an inhabitant of New York during the Dollar Flu crisis. Her husband bought her the book as a joke, but as the disease spread rampantly across the city, she started to notice two things: 1) how useful the advice was and 2) how eerily accurate the book was with its predictions. The book becomes her journal, as she writes down her experiences, what happened to her husband, what she witnesses, etc., and it becomes her notes in trying to find the truth about both the Dollar Flu and Warren Merchant. Since Warren's writing is rather cut and dry and therefore, boring, it's April's handwritten notes that make it worth reading at all. In fact, she opens up a completely different and even darker side to The Division than I thought was possible. Unfortunately, it's riddled with spoilers, which is why I wish I had held off on reading it until after I finished the game.
No I haven't finished the game yet. Yes, I suck. Let's move on.
The player never sees April Kelleher in the game, but they do find her notes scattered all over Manhattan. This book pieces those notes together and fills in the big picture of what happened to her. As the player, if you hunt down the Echoes littered throughout the city, you will find one that shows the murder of her husband. At the time, you don't know who he is, other than the fact he seems to be important regarding the Dollar Flu, but when you reach April's notes about witnessing his murder, it all falls together. And that's how most of the book goes. You'll come across something in the game that has meaning, but April's journal makes it ten times more meaningful.
However, as a result, her journal is full of spoilers. Part of the player's mission in The Division, other than keeping order, is to find out what happened to the first wave of Division officers. If you haven't gotten that far in the game (thankfully I have), then this is all spoiled for you in her journal. It's not as detailed as the game is, as April is not a Division officer, but a civilian trying to survive, but it still takes some of the wind out of the big reveal sails.
If you're looking for more background regarding The Division and you've finished the game, then definitely add this to your bookshelf. It's a great read that won't take very long to peruse. It's also filled with removable artifacts that really hammers home how haunting the world of The Division really is. Just don't open it until you finish the game. I'm going to reread it after I finish, that's for sure.