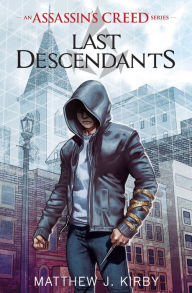 The Assassin's Creed series has always had novelizations of their games, which are, quite frankly, terrible. This is the first novel (not counting comic) with an original story, and I admit I went into it with heavy hesitation. The comic has been just okay so far, so how would a completely new story go? How well will Matthew J. Kirby walk the fine line of keeping the present day plot line as interesting as the past, a/k/a what gamers really care about? He does quite the fine job, actually.
Last Descendants is the first of a series of books that explores a group of kids and their connections to Assassins, Templars, and their ancestors who came in contact with Pieces of Eden. A former Abstergo employee quits the company, steals an Animus, and lures a few kids to all try the Animus together. They all just happen to have ancestors who were pivotal pieces in relocating one of the lost Pieces of Eden. This employee is neither Templar nor Assassin; in fact, he believes that neither faction deserves to have such power. His goal is to find these Pieces and keep them as far away as possible from both Templar and Assassin.
For the first time with Assassin's Creed, I actually care about what is going on in present day as much as in the past. These kids hurled in a mess of war they didn't ask for, Templars and Assassins both trying to convert them to their side, and this mysterious disgruntled Abstergo worker who hasn't told them quite everything. It's hard not to be invested in their story.
And, as usual, the ancestors' history is fascinating. It also takes up the majority of the book, which is how it should be. This particular history takes place after Assassin's Creed III and Assassin's Creed Rogue, during the Civil War. In the North, President Lincoln is imposing a draft, and many aren't happy with it. The Templars of the time have decided to stage a riot to protest the draft, and then use the distraction to steal the Piece of Eden. The Assassins have already been alerted to the ploy, and it quickly becomes a tug-of-war between the two over who gets the Piece.
The Piece was not recovered, and the book ends with the kids scattered as the Templars and Assassins zoom in on their location. And thus, it ends on quite the glorious cliffhanger. The next book will release in December, and suffice to say, I am hooked enough to need to know what will happen next. I encourage all fans of the AC titles to pick up this series. I doubt it will have much to do with the games, but this one is a fun tale in the universe. It's made me want to finally start Black Flag or even Rogue. I do miss stabbing people from above.