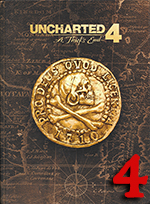 Remember way back in May when Uncharted 4 finally hit the PlayStation 4? Well we figured it was about time that we give the Prima Games Uncharted 4 strategy guide a little love. In the name of trying something a little different, I decided to give this review a go using ONLY the digital edition.
After spending so long focusing on the print edition of guides (which is my obvious preference) it was interesting to see some of the unique elements that give the digital editions a leg up on their parchment-chained counterparts. This was an interesting exercise that I think would be worth exploring at a later date, so stay tuned to see what else is in store down the road.
Now back to the actual guide… The Uncharted 4 strategy guide may be one of the most thorough single-player campaign walkthroughs I have ever seen in an action game. The level of detail they went to was fantastic. However, the online multiplayer portion left quite a bit to be desired. But I don't want to spoil everything here in text. So if you would like to find out more, you should probably check out my full video review, below.
SGR Rating: 4/5
Authors: Rick Barba and Tim Bogenn
Publisher: Prima Games
Editions Available: Paperback and Collector's Edition
Acquired via Publisher