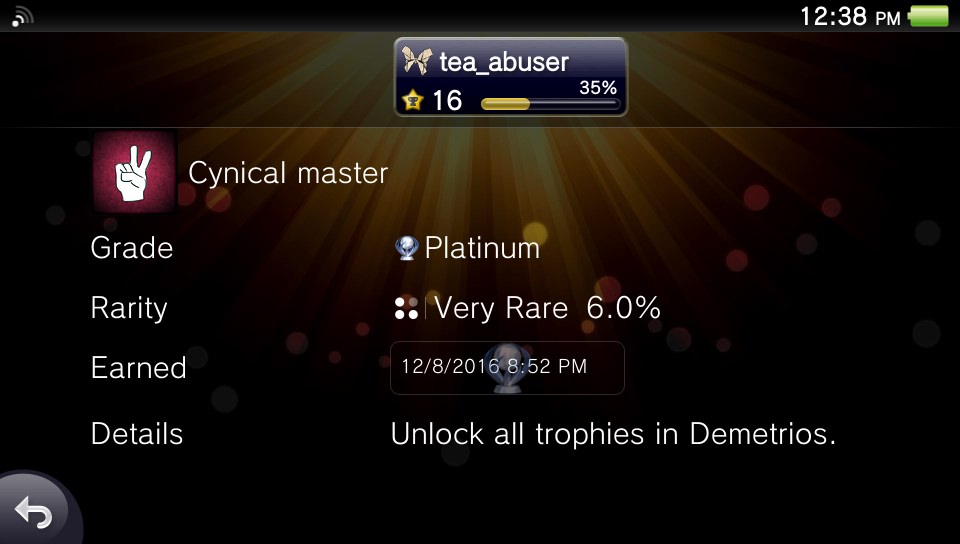 Back in December, PlayStation Lifestyle asked me to review Demetrios: The Big Cynical Adventure on Vita. I like point-and-click adventures, and this one seemed to have a seriously dirty sense of humor, so I was all in. The game isn't too difficult thanks to the hint system, and I was able to get through the game in 7 hours. However, unlike most PAC games, the biggest draw to this one is finding all the ways for the protagonist to get a game over. Really, that's the only challenging trophy to obtain, and I did have to look up help with the Steam Community.
The second most difficult trophy was finding all of the cookies, which are your hints. There are three in every scene, and if you miss one, the only way to have it count in your point total is to load an earlier save or start over. I was hoping I could do it all in two playthroughs, but after I finished the second, the cookie trophy didn't pop. I looked at my cookie count, and I missed one cookie, ONE COOKIE, in one of the early scenes.
I ended up playing the game three times total. Fortunately, you can skip scenes and once you know the puzzles, it's very easy to play through the entire game in 2 hours. After playing it for the review, I only needed two more nights to get the rest of the trophies. The third time I played is when I looked up help, because there were a few options that you can only get if you set something first, and I never would have realized what I needed to do with a prod in the right direction.
I know I need to do other things than Platinum a Vita game, but this one seemed so easy I couldn't help myself.