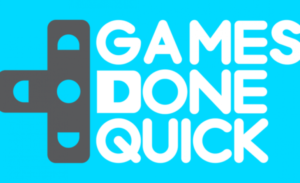 I'm currently sitting at my desk watching four gamers speedrun Donkey Kong: Jungle Beat thanks to the greatness that is AGDQ.  If you don't know what AGDQ (Awesome Games Done Quick) is, it is a week long event where speedrunners (gamers who play games at a stupid fast pace) play a variety of games to help raise money for the Prevent Cancer Foundation. Games ranging from Super Mario Bros. to Dark Souls III are all at the mercy of glitches, save breaks, unintended wall jumps, and so on. I love this week!
What makes it even more fun is that I got Keri into watching this as well. We now text each other during certain games to express our disbelief as we watch our childhood get completely wrecked. I feel as though we now need to add attending AGDQ in the future to our bucket lists. I think it would be a fantastic time!
It's always a sad time when the event draws to a close in the wee hours of Sunday morning. This sadness is tempered a bit with the excitement that comes with knowing that SGDQ (Summer Games Done Quick) is just a few short months away. Also, getting sleep again is nice.
At the current moment (Thursday afternoon), AGDQ has managed to bring in $665,669 in donations (Editor update: it's at $812,736 Friday morning!). It's certainly looking like a solid possibility that they will cross the $1,000,000 mark by the middle of Friday. Saturday is when the people rush to get their final donations in. I'm curious how close to $2,000,000 they will get. With all the hate and negativity that seems to be the norm as of late, it's such a joy to see gamers coming together to do something fun and positive.