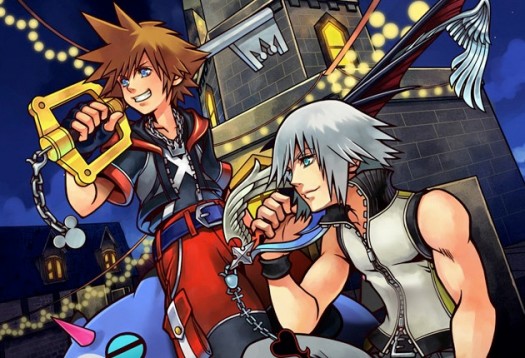 I'm supposed to be slowing down on reviews so I can actually play games I own (the crazy talk), but when Tales of Berseria AND Kingdom Hearts 2.8 HD: Final Chapter Prologue drop in your lap, you can't say no. I mean, it's me. Me and Kingdom Hearts. Like I'm going to say no to that. If I said no to that, that's grounds for committing me, because obviously I'm not right or I'm a pod person.
Playing both games with close deadlines wasn't entirely a problem since KH 2.8 didn't have much in terms of new content. It has three experiences: a port of Dream Drop Distance, a new game 0.2 Birth by Sleep: A Fragmentary Passage, and animated film Kingdom Hearts χ Back Cover. Fragmentary Passage only took about 3 hours to beat, and the movie was only 80 minutes long. The bulk of the disc lies in the 3DS port, and it's a VERY faithful port.
So what does this mean? It means that Dan Birlew and Rick Barba's strategy guide came off the shelf and sat by my side during the review. I never did review that guide because 1) I'm a horrible person and 2) I really disliked the game. However, the game is vastly improved on console, simply because I can see everything that is going on. KH3DS introduced Flowmotion for quickly getting around and fighting, and this gave me a headache on the tiny screen. I do have vertigo, something that Portal triggered at the end, and trying to line up jumps while sliding rather quickly was murder on my sensory perception. I also loathed the Drop system. It is back, as I said, this is a FAITHFUL port. But since the larger screen wasn't wreaking havoc on my inner ear, the Drop system didn't add to my frustration.
The combat system is still the worst of all the games. I played Fragmentary Passage first, which had a combo of the first game and Birth by Sleep's menu system, and that was a mistake. It was amazing and incredibly intuitive. To go from that back to KH3DS was rough.
Prima Games has no plans for a Kingdom Hearts 2.8 guide. There's really not much to the game anyway, as the only new guide needed is for Fragmentary Passage. Even then, the only reason why I'd need it is for finding all the treasure chests and completing the objectives. I'm sure the publisher will have an online guide for that reason soon.
As for KH3DS, take heart in knowing that the strategy guide Birlew and Barba wrote in 2012 still serves its purpose with the PS4 port.