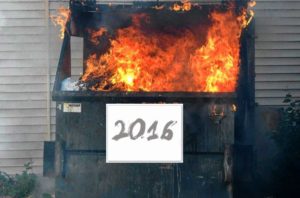 OMG! It's an article from Chris. Hell must have frozen over. Well, maybe not Hell, but where I live it certainly has. Curse you winter and your frigid below zero temperatures. Anyway, based on the date stamp from my last article, I took quite the summer vacation. Some of that was planned due to extensive travel. Some of that was unforeseen circumstances of life. A bit of warning before I proceed. This will be much more life based than anything having to do with gaming. Hey, it's my corner. I'll do what I want!
Now, where did I disappear to the last half of 2016? Well, Keri and I both knew summer was going to be a hectic time. She would have kids at home thanks to summer vacation. I'd be on the road doing various things such as taking pictures, working weddings, and visiting family/friends. It was supposed to be a hiatus that lasted only through the summer. Then life threw some curve balls and I slid into a dark hole that I'm still trying to climb out of.
In August, my wife lost her job. My wife is the money maker here. She supports me. This was a rough blow to us. Some time ago we setup a savings account for just such an occasion, so we have been fine so far. However, there is now uncertainty in the air as we look at the possibility of having to pack and move yet again as the job chase struggle is real.
At the end of August, I was out in Colorado working a wedding with a friend. We had just finished working for the day. It was late. I sat down and checked Facebook for a moment and found a message that my step-father had but a few days left to live. The next morning, I packed up and raced home to snag essentials before racing off to hopefully see my step-father before he shed his mortal coil. That was some of the hardest 20 hours of driving I had ever done. I made it in time to make my peace. The morning after I had arrived, he passed away.
In September my beloved truck blew-up. Well, not literally exploding in a glorious ball of flame and smoke. However, the engine was broken to a point of needing a total replacement. This happened three days before I was slated to leave for Colorado to help lead a photography tour there. Thankfully, I have great friends who jumped to my aid without me even asking for any sort of help. I was flown out to Colorado. A friend rented a truck. The tour continued on. Fun was had. Memories were made. It was a distraction I needed.
The holidays came and went. They were clouded with regret and guilt. Dragged down by the things I cannot change. It was tough, but I'm still here.
Over the course of several months, starting well before any of this craziness happened, I started sliding into my own well of depression. The drinking accelerated. Life happened. I fell deeper and deeper into my sadness. Soon, I was just a walking, talking, hungover liquor store that just struggled to get through the day. Enjoyment ceased to exist in my world.
I'm still here. I'm slowly starting my crawl out of this damned hole. It's not easy. I've almost gone cold turkey on the liquor. I'm fighting my demons. The nights are the hardest. When I finally stop to unwind for the day, I reach for a drink that isn't there. The darkness fills my head. I fight with my emotions, most times well into the wee hours of the morning. Yet, I continue on.
I don't really know if there was a real point to telling this story. Maybe I just needed to get it out of my head. Maybe this is just some form of catharsis and a part of getting back to a more healthy life. Either way, it's now posted and it's done. Next week I will get back to babbling on about gaming stuff like how AGDQ (Awesome Games Done Quick) is a damned glorious time. You do know AGDQ starts this Sunday, right? No!?! You do now! Here's to you 2017. May you be vast a improvement to the dumpster fire that was 2016.