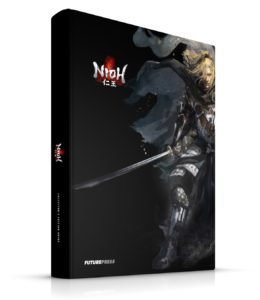 Future Press has been so quiet for so long, and now they're doing ALL THE THINGS! It's been confirmed that they are publishing a guide-ish book for The Last Guardian and an official Horizon: Zero Dawn strategy guide. Now an official Nioh strategy guide has popped up on Amazon for preorder.
Nioh released on February 7, 2017, and its tales of extreme difficulty have already made the rounds. I personally hated Nioh within the first two minutes of playing, due to its steep difficulty. I wondered if there would be a strategy guide, as both the Dark Souls series and Bloodborne had fantastic strategy guides. Oh wait, Future Press did all those too, didn't they? Why am I not surprised?
But I digress. Nioh is already out, but the strategy guide will not hit store shelves until April 12, 2017. Future Press did something quite similar with Bayonetta, where the book released months after the game did. That said though, the strategy guide was impeccable. Since the Nioh strategy guide is releasing a couple of months later, it will include the game's DLC as well.
Team Ninja's Nioh is the very definition of an epic-scale game in need of an encyclopedic tome, and we're not going to let it go without.

The Future Press Collector's Edition Guide contains the sum of countless hours, innumerable deaths and monumental victories to bring you everything you'll ever want to know about Nioh's incredibly deep and expansive world. From its myriad combat options and strategies, to its wonderful fusion of Japanese culture, history and mythology, we'll share every little nuance. Nothing is omitted or overlooked – we explore the game's creation, from concept art stage to release, delve into its story and illuminate its darkest areas with highly detailed maps. Covering not only the base game but all three of the upcoming story DLCs and PVP additions, this book will arm you with the knowledge to send samurai, Yokai and other online players back to the world of spirits.
Now all I have to do is convince Chris to pick up the game so he can review the guide. This game has his name all over it.