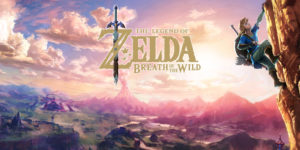 Well, I cracked the other day. Yup, I snagged Zelda: Breath of the Wild. Much to Keri's dismay though, I got it on the WiiU and not the Switch. As much as I want that shiny new Nintendo hardware, I just can't justify buying it for one game currently. I also really want to play the new Zelda now and not in a year! So, this was my best option at this time.
Breath of the Wild is absolutely fantastic. The open world aspect of the game is a nice change of pace. I like that I am free to go explore the world in hopes of finding new temples or little towns. The clichéd phrase of "if you can see it, you can visit it" applies here as well. I've climbed up small mountains, scurried up big towers, and glided to little islands. All in a quest to obtain more heart containers so I can finally get my grubby hands on the Master Sword.
There have been complaints of performance issues, lack of music, and little hand holding from the game. I can confirm I've run into the dreaded frame dropping. The frame dropping is pretty infrequent, which is both nice and horrible. It's nice because I run all over having fun. It's horrid because when it does happen, it is extremely noticeable and a bit of an immersion breaker.
As for the lack of music or little hand holding, I'm not bothered by either of these complaints. The music that the game does provide is of the standards we've come to love and expect from this series. I feel music playing all the time would just drown out other immersion factors like hearing your gear clank as you run, or the rain falling, or birds singing in the forest. The lack of hand holding doesn't bother me either as I've played plenty of games that make you explore and learn the game mechanics on your own. It's really not a terrible thing.
Hell, now I wanna jump back into the game and explore some more. Oh, and if you're curious, I did beat Horizon Zero Dawn. I absolutely loved that game. The world was well crafted, the story was pretty solid, and the game play was on point. Heck, I've even gone back to hunt down an extra trophy or two, and I never do that. I really do hope some DLC comes out for that game because I'd love to explore that world even more!