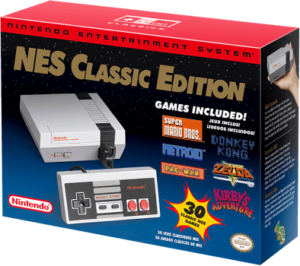 Yesterday, news struck that Nintendo was no longer going to offer the NES Classic Edition for sale. That's right. One of Nintendo's cash cows at the moment is obviously making waaaaay too much money, and they just can't have that. I am both shocked and bummed by this news.
I'm bummed because I really wanted to snag this console, but it's been consistently sold out. Even when a small stock does arrive at a store here, it is basically sold out within seconds. I know this is nothing more than an emulator. I can easily play the games that come with it via other methods. Yet, I really wanted the NES Classic Edition because of nostalgia. Now, I'll probably never get my hands on one. Let's face it, the value on this thing just went through the roof.
I am shocked that Nintendo would do this because of how well the system was doing. No store was capable of keeping these consoles in stock. It's almost like Nintendo just doesn't like money. I get that they are wanting to push the Switch, but this news doesn't stack well with the issues the Switch has. Last weekend I got to play a friend's Switch and experienced the left Joycon disconnecting. Thankfully, their Switch doesn't have the warping issue…yet.
I just don't get why Nintendo felt it was necessary to kill off the NES Classic. With news of the Switch having various issues, this feels a bit like a low blow. So seriously Nintendo, WTF?