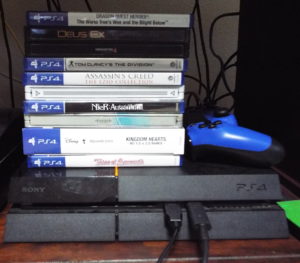 I really did enjoy my job when I reviewed video games, but it was rough on my stack of shame. Either the deadlines I had didn't allow me enough time to finish a game I wanted to, or I had to stop a game in order to review this new one. I am going through my stack bit by bit now that I am out of the reviewing biz, starting with the games I have strategy guides for. I wrapped up Mass Effect Andromeda recently, and now I'm carving out time to play Horizon: Zero Dawn. That's the last strategy guide I currently have from 2017 that needs to get done. Yes, I have a ton from 2016, but baby steps, people. Baby. Steps.
The problem is, if I start to think about what I should tackle next after HZD, I start to realize how ridiculous my stack has become. A good friend has threatened to spoil everything in Dragon Age Inquisition if I don't finish that, so I need to put that higher in the stack. But I never did finish Tales of Berseria, and that game was really good. Then I think of Dragon Quest Builders, Dragon Quest Heroes, and World of Final Fantasy, which then leads me to Final Fantasy XV. Holy crap, I really want to finish that game! Oh wait, I never did start The Witcher 3. OMG I NEVER OPENED NIER AUTOMATA OR THE LAST GUARDIAN. What about Fallout 4? Aw crap, I never did finish The Division, and I loved that game! Shit…there's also that thing called Breath of the Wild…
That's usually when I turn to tea or wine, and then text a friend asking if they want to still play Gears of War 4 together. Procrastination, my old friend, you're always there when I need you.
At the very least, I don't have any games to review to make this hole even deeper. I also don't have any future games on my radar until the fall, and so far, it's only one—the next Assassin's Creed game. That should help, right? (Humor me, please.)