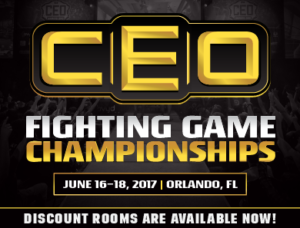 CEO took place last weekend. This is the last big FGC event before EVO steamrolls into town in July. The hotel was packed with participants, Twitch.TV streams rocked my screen almost all weekend, and there were plenty of upsets to keep me at the edge of my chair. I know EVO is basically the Super Bowl of the FGC, but these smaller events are just so much fun to watch.
There are plenty of videos for you to check out on twitch. Separate from some really crazy hyped matches, there were two things that have stuck with me since the event came to an end on Sunday. The first item is something I see as a very positive shift in the Fighting Game Community. I saw more females and transgendered players at the event. It's not like a huge amount of players from these two groups, but enough that it was noticeable to me. This was more evident on Friday and Saturday nights as the pools were jam packed with participants. Still, it was good to see a more diverse grouping of players at the event.
The FGC is notorious for the brotitude it has. Players can be stupid nice (Smug), while others will talk smack and piss in your Wheaties. What is very consistent is that the commentators treat the players with respect. It must be two or three years now that the Street Fighter commentators have referred to Ricki Ortiz by her chosen gender. Yeah, Twitch chat is still a Shit Lord when it comes to being an adult about these things, but it's nice to see that these two groups of players are starting to feel comfortable enough to compete at these bigger events.
The second item isn't such a happy one. Sunday was the last set of pools for several games. During the day, victors would be crowned in games such as Tekken 7, Injustice 2, Street Fighter V, and other games. If you ever watch an FGC event, but only have one day you can do so, watching the last day is always full of hype games. I started the morning watching the Street Fighter V DreamHack finals from Sweden. I'd then moved on to watch Tekken 7 followed by Injustice 2 Top 8 pools. Check out the Injustice 2 Top 8 pools if you can.
Now, most big events like this end with Street Fighter. There are a few reasons for this, but as much as some would like to see a different game closing out events, this is the way it is. This is where things fall apart. I had been streaming CEO all day with no issues. Capcom takes to the stream to close out CEO and suddenly nothing works. There would be some commentary, a few seconds of a match, and then the stream would go down. It comes up, runs their damn ads just fine, get into a match, and die again. This went on for about four or five matches before they got things under control.
It's hard to give Capcom a pass on this. CEO streams ran just fine the whole weekend. I read that the hotel internet had went out during the Street Fighter V Top 8. They had to switch to a 4G card. That card wasn't holding up. They had no other backup solution. I have been watching these streams enough to know that during big events, you bring more than one 4G card. You prepare for this type of situation. Capcom failed.
Sure, we got to watch the last few matches, which were pretty damned good, but many viewers left with a bad taste. It was bad enough that people started to Periscope the event so people could watch. With the negativity already surrounding Marvel vs. Capcom: Infinite, this was just more salt in the wound. Hopefully EVO won't have such a sad ending.
CEO was very enjoyable to watch. There were plenty of upsets across the various games I was interested in. The hype train is now rolling out towards EVO. Man, where the hell did a year just disappear to?