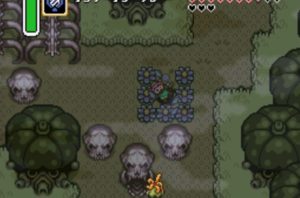 As the post title suggests, I have been working my way through A Link to the Past on my 3DS. I have no idea which attempt this is to try the game, but I am the farthest along I've ever been. I'm about halfway through the game, maybe less. I might have tolerated this game back in the day, because all games then had this much of a challenge. Little direction, unforgiving enemies, and a general feeling of floundering about. Miyamoto said that was his intention with the first Legend of Zelda game, because he wanted people to talk to one another for clues and tips. H wanted people to link together and discuss the game, hence why the hero was named Link. He's a crafty one, Miyamoto-san.
I don't have people to talk to for help, but I do have a strategy guide (that isn't great) and I have my knowledge from watching speedruns. However, I can barely call that knowledge, as I have quickly learned that they make all of this seem so easy. I'm sure it is if you play this game to completion at least once a day. For the newbie, the game is brutal.
Case in point, I finished Skull Woods last night. I'm fairly certain I had 25-30 deaths ALONE in that dungeon. Dying that much gave me two things: a sharp need to toss my 3DS across the room and memorized strategies for rooms. What made it all worse was that I didn't always have to repeat a room because I died. The Wall Masters are responsible for at least a third of my deaths, if not three-fifths. There's nothing quite like FINALLY completing a room, only for a Wall Master to drop on your ass before you can even leave the freakin' doorway.
And then there's that lovely moth boss at the end! In the room of conveyor belts and spiked balls! I went through a red potion and a fairy, I still beat it with only 2 hearts left. I apparently need to study speedrunners' strats better with that boss. Then again, no I don't, because there's no way I'm playing this game again.
I treated Chris to a barrage of angry texts about Skull Woods. I'm sure I amused him greatly. I've heard a lot of speedrunners say that Skull Woods is their favorite dungeon. To you all, you're feckin' nuts. I'm ready to burn the whole place down, the Dark World environment be damned.