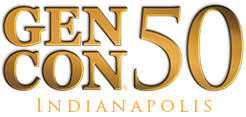 Gen Con is currently in full swing. For longtime readers of this site, you know this is usually my yearly pilgrimage to Indianapolis for four days of sleep deprivation, gaming, photography, forging new memories, and tons of laughs. Unfortunately, this is the second year in a row that I've had to cancel my plans to attend. Friggin lack of money and having to be an adult about it.
Not going this year is pretty hard for me. This was to be my last Gen Con that I'd attend. Not because I'm bored of it, but because the event has grown so much that just trying to secure a hotel close to the venue has become a massive pain in the ass. Gen Con has grown so much over the years that it's practically out grown Indy. This year is the first time they have completely sold out. That means roughly 80,000 nerds, geeks, dweebs, and whatnot have descended upon Indy to celebrate the 50th anniversary of Gen Con. Crazy, right?!?!
I have a lot of great memories of Gen Con. From my first year going at the encouragement of a friend, my first time being an artist and sharing my toy photos with hordes of people, to just having a beer at The Ram. It's been a fantastic convention to attend. Indy might not have been ready for this event when it first showed up, but the city has adjusted and adapted to the massive influx of visitors.
My first Gen Con was the first year they were in Indy. I believe there was something like 27,000ish people that attended that year. My last time attending was two years ago and they had crossed to the 69,000 attendee mark. That's some healthy growth. Heck, some of the businesses in the area make 25% of their yearly profits over the four days that Gen Con is there. That just amazes me.
While I can't be there in person, I am there with all my friends in spirit. I wish I could be there, but a small part of me is also thankful that I'm not smashed into that gigantic crowd. Here's to you Gen Con. Thanks for all the memories and great times!