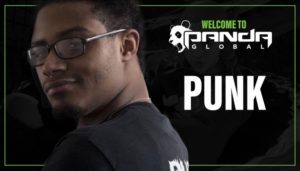 EVO took place a couple weekends ago, and one of the players that was expected to go far was PG Punk. Punk has become a dominating force in the U.S. FGC scene. In particular, he is a dominating force when it comes to Street Fighter V. So what happened to him as of late?
Let's look back just a bit. Punk was relatively unknown not too long ago. He was just some cocky kid who boasted big claims of greatness. Well, he made good on his claims. He is still pretty cocky, yet highly entertaining to watch on stream. Yet he really has made good on his claim of greatness. He's won a few tournaments now. Even dethroning a few of the bigger name players.
Then EVO 2017 rolls around. Punk was expected to get pretty deep in the brackets. The Street Fighter V field was loaded with some extremely strong players. I expected him to place somewhere in the Top 10, but I never pegged him to get all the way to grand finals. Well, he proved me wrong.
Punk did indeed make it all the way to grand finals in Street Fighter V. He had to work his way through the losers side of things, but he put on a great show and bested some very strong competition. Ultimately, however, he would fall and take second place. Punk looked absolutely devastated at the awards ceremony. You could see he was fighting back tears. Keep in mind that this was his very first EVO, he is only 18, and he snagged second place. That is no small feat.
Last weekend Defend the North went down. Punk was once again a competitor in the Street Fighter V games. He would once again take second place. The thing I noticed while watching this tournament is that it seems Punk has yet to recover from EVO. He had lost some of that cockiness he had. His facial expressions were more of someone trying to figure out what went wrong. It was a bit heartbreaking to see.
Punk is still young, and his FGC career is only starting. Suffering a defeat at EVO is certainly taking its toll on Punk. Yet, I think he will go a long way in this career if he chooses to stick it out. Punk can't win them all, but I fully expect to see him win at EVO in the future. Until then, hopefully he can shake off whatever it is that is weighing so heavily on him so he can once again become the cocky kid we've grown to know and fear.