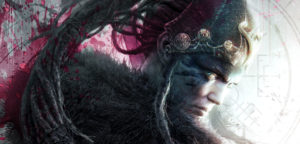 Hellblade: Senua's Sacrifice released this week, and it came with a few surprises. Now, I'm pretty broke so I've all but stopped looking for new games to play. Besides, Warframe and ESO are keeping me plenty busy. Oh, and that Stack of Shame is still there…being ignored. Yet, I was watching a bit of Twitch.TV over lunch on Monday, and the streamer I was tuned into mentioned how excited he was for Hellblade to release on Tuesday.
Tuesday rolls around and the game is finally available. Then the angry mob gathered their pitchforks and went to the internet. People are upset over two things they deem as issues with the game. The first is the all too common complaint that the game is too short. To that complaint I can only answer that people should be used to this by now. A lot of games that release these days only have a campaign that lasts a few hours. Take Resident Evil 7 for instance. That game can be completed in under four hours. Heck, there is even an achievement for beating it under that time.
The second issue was the bigger problem for people. You see, the game will delete your save file if you die too many times. Yup, all of your progress is wiped clean and you have to start over. If you die too many times that is. You can't turn this off. There is no option to not play by these rules. It just happens and the only way to keep it from happening to you is to either play on an easier difficulty, or just get good at the game.
Now there are plenty of people arguing about this chosen design feature. As with anything, some are for it and some are against it. Thus I'll keep my take on this short. I'm fine with this. If/when I play this game, I'll just play on easy and have less worry of my save file actually being deleted. No big deal. I can still earn trophies/achievements, even though I opted to play on easy. These are the rules the game has set in place for me. I actually kind of like it as it means I'll play a lot more cautiously. Dare I say, it even deepens my bond with the main character as I don't want to see her story come crashing to an end just because I was playing recklessly.
All this complaining about various game features is really getting old. Either buy the game knowing what design decisions were made, how long the story is, and if it'll be more of a multi-player type of game, or just don't buy it and move along. It's totally just that simple. Hellblade: Senua's Sacrifice is $30. In the grand scheme of gaming, that's a decently cheap game for four to eight hours of enjoyment. Yet, we now live in a time where people want to complain about everything and anything. So please, if a shorter story or the possibility of your save file being wiped clean bothers you, just move along. Let people enjoy the games they find fun. Is being angry over a video game really worth your time and energy? Yeah, I thought not.