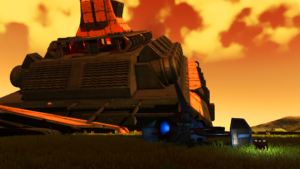 No Man's Sky is surrounded by so much controversy that you could basically cut it with a knife and serve it on a platter to all the haters. There really is no middle ground when it comes to this game. People either enjoy the game, or they just crap all over it. I get it. No Man's Sky promised a lot, but fell flat at launch. It was essentially a $60 early access title. Well, a year has now passed since the game released. Patches and content have trickled out in that time. So, I decided to see what all has changed.
To start, I enjoyed the game when it launched. It was more of a relaxing kind of game for me. Now that there is more content to it, the game is even more fun. I decided that I'd delete my old game and start anew. Might as well experience what all has been added.
I can say that the game is vastly improved. Simple things like refilling your life support systems, or adding fuel to your thrusters, is simplified and streamlined. There is still that annoying part where inventory management is a constant battle. Yet, there is more spaces to store materials, and it's pretty painless to now send and retrieve stuff from your ship. Speaking of your ship, the ability to just call the ship to you as opposed to trying to find it is a welcomed addition. There is even a decent photo mode, and I love a solid photo mode!
No Man's Sky now has a few new modes as well. There is a hardcore mode where when you die, that's it. There is also a more relaxing creative mode. No more storage management issues as everything is available to those that just want to explore the universe, or build whatever their imaginations can cook up.
At this point, I don't think anyone is going to change their mind on the game. Like I said earlier, I enjoyed the game at release, but these improvements make the game much more enjoyable. I know there is still some broken promises when it comes to what No Man's Sky promised and what it delivered. However, it's nice to see Hello Games continuing to support this game with new content and improvements, even with all the crap they have gotten over this title. If you own the game, patch it up and take a look at it. You might just be pleasantly surprised by how much the quality of life has improved on this game.