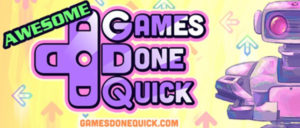 I had no idea what to write about today, but then it hit me that I always seem to do AGDQ/SGDQ event updates. Thus I'll stick with tradition and give an AGDQ 2018 update. I mean, I'd hate to break from tradition!
Last week I didn't think I'd have a lot of time to watch AGDQ 2018 due to working on the house. Well, while visiting Wisconsin I acquired a lovely cold that was going around. It pretty much put me down and out for the week. Thankfully, it happened this week so I could actually enjoy way more of AGDQ 2018 than I had originally planned.
I started by watching the Pre-Show. I did this while in Wisconsin. My wife even sat next to me while I streamed it on my iPad. I was really hoping we'd hear why Super Metroid wasn't being run, but there was absolutely no mention of it. The Pre-Show was all I watched on Sunday due to other obligations.
I got home on Monday and was able to catch most of the Sonic block, all of the Mega Man block, and most of the Metal Gear block. The rest of the week has been pretty sporadic. I catch a bit of the event over morning coffee, some at lunch, and I try to catch a lot at night. Yet medicine and sleep have kept me from seeing some of the runs I really wanted to see, such as the Resident Evil 7 Biohazard run. Thank goodness for VODs!
Looking back so far, the more memorable runs I got to watch have been Superman 64 (donation incentive), Enviro-Bear 2000 (EAT THE FISH!), Athena (oh such a bad game), Ori and the Blind Forest: Definitive Edition (what a crazy good race), and Hyper Light Drifter (PET THE DOG!). There are still two days of watching games getting broken to go. I'm so ready to see this Mega Man 1-3 Relay Race later today, and also the Link to the Past Randomizer run on Saturday.
As of the time I started this, $820,010 has been raised. I'm hopeful that the million dollar mark will be hit today, I do question if they can break the two million mark like they did last year. I know Saturday will be a crazy day of big donations coming in, so maybe there is hope to get hyped. For now, I'm going back to watch this Super Mario Galaxy run!