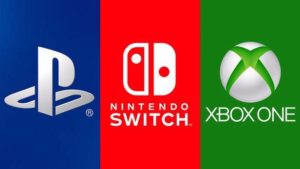 Well, the end of the year is quickly approaching. Before you know it, we'll be welcoming in 2018 and wondering where the heck December disappeared to. Holiday parties, family travels, oh so much baking and eating, gift exchanges, and mad amounts of stress will come and go as 2017 crawls to an end. Oh, and if you live in a snowy region, let's not forget the impending snow storms, bitter cold temps, and the begging of spring to return.
As with many people, I'm starting to make my wish list. Not that I think I'll get anything off of it as it's been a rough financial year for my wife and I, but it's always nice to dream. I start my list with a Nintendo Switch. There are finally three games that I'd like to play, and that is the point at which I consider a console worth investing in. With Super Mario Odyssey, The Legend of Zelda: Breath of the Wild, Skyrim, and DOOM all making their way to the Switch, it's hard to not crave one. Sure, I've played most of these games already, but having seen the Switch in action from friends who travel, it just makes sense for me to want one with all the traveling I do.
Next on my list of wishes is the PSVR. I visited Blake some time ago…like before he moved out of the state, and I got to try out his PSVR. While the headset screens weren't as nice as the HTC Vive, the overall setup was just easier to deal with. I really want to see what Dirt Rally, Resident Evil 7: Biohazard, and EVE: Valkyrie – Warzone would be like in virtual reality.
Those are really the biggest items on my wish list. My 3DS is doing just fine, and there really isn't a solid need to upgrade to a New 3DS outside of the SNES emulator. I don't own a 4K TV or monitor, so snagging a PS4 Pro or new Xbox isn't really necessary either, outside of their improved hardware. I can't believe I just said I don't need to upgrade some of my systems. Man, I must be getting lame.