One thing that has been really awesome with my job lately is that I've played so many indie PC games this year. I love AAA games, but indie games often bend the traditional rules of games or they bring back that retro feature/mechanic you had no idea that you missed. The Guest is an indie game that takes a page from Gone Home, in that it is a first-person exploration game, but unlike Gone Home, it stays as sinister as the game appears. In fact, the game goes downright WTF up to the very last second.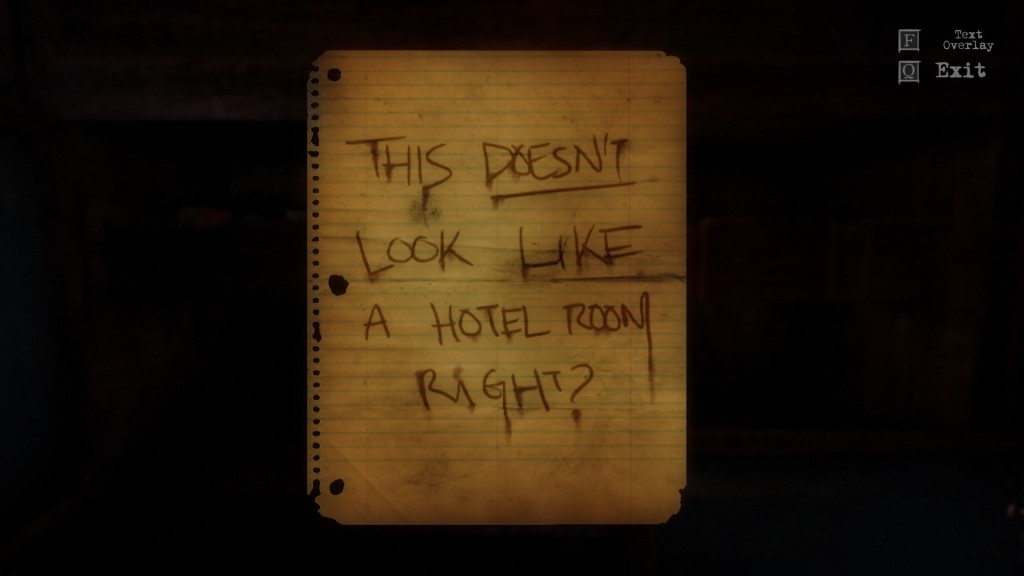 The player controls Dr. Leonov who was summoned from Volgograd to Boston to give a lecture at Boston University. He wakes up in the middle of the night in his hotel to quickly learn that nothing is what it seems, and he's actually a prisoner in this room. The only way to escape? Why puzzles, of course!
Here's a bit of my review from Action Trip:
Like most puzzle games, The Guest starts players off lightly and then pulls no punches later. I doubt it's half as complicated as the puzzles from The Witness, but a couple did make me tug at my hair in frustration, and sadly, there were no other puzzles I could distract myself with at the time. Only one puzzle made me turn to the Internet for assistance, and the solution still baffled me for a while.

Dr. Leonov doesn't have many rooms to explore in his little prison, and backtracking is kept down to a minimum. My overall time with the game ended up being between three and four hours, and yet according to the Steam Achievements, I didn't find half of the items Leonov could add to his inventory or read all the newspapers. I cleaned out every drawer and cabinet I came across, but it is possible that I missed a secret room in my fervor to plow through the puzzles. However, the story isn't enough to make me want to play again to find these wayward items and there are a few puzzles I couldn't be paid enough to go through again (I'm looking at you, you damn valve puzzle).
My overall experience was okay, I guess. The ending wasn't predictable, but I have no idea why any of it happened. I thought I was pretty thorough with exploration, but as I mentioned in my review, the Steam Achievements say I didn't look at half of what I should have been able to find. I liked the story better than in Gone Home, as at least this one didn't seem as pointless, but I didn't like the puzzles as much either.
I definitely learned that if I'm ever kidnapped and can only escape by solving puzzles, I will die alone. That is a fact.